Violent Clashes in Zimbabwe Leave at Least 2 Dead
At least two people were killed following violent clashes between the police, commuter omnibus operators and vendors. This followed Harare City Council's hurried ban on commuter omnibuses from entering the central business district. The government has since reversed the ban, as there are no viable alternatives for the public.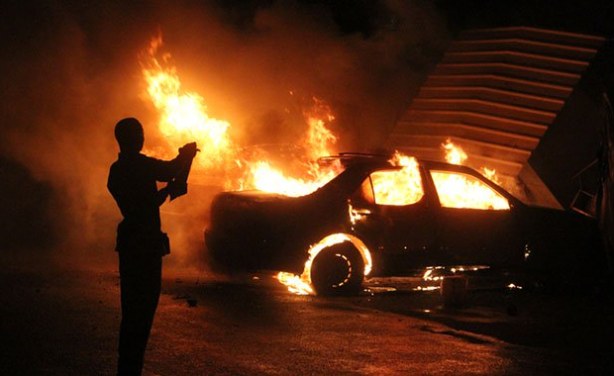 A policeman uses a fire extinguisher to put out a fire on one of the vehicles that were torched by rowdy touts at Harare Central Police Station last night.
Zimbabwe: One Killed, Two Injured in Harare Clashes

The Herald, 23 February 2018

At least one person was killed, while two others were seriously injured yesterday evening in Harare when police clashed with commuters in the central business district (CBD). Read more »

Zimbabwe: Harare Needs to Regulate, Not Ban Kombis

The Herald, 21 February 2018

While most cities battle to figure out how to reduce use of private vehicles and enhance public transport in their city centres to cut back on congestion, Harare City Council has… Read more »

Zimbabwe: Harare Bans Taxis From CBD

The Herald, 20 February 2018

Harare City Council has banned commuter omnibuses from the central business district (CBD) and is ordering them to operate from new ranks with effect from Wednesday. Read more »