Heavy Rains Wreak Havoc in Angola
At least 8 people have died and 3,000 houses destroyed following heavy rains across the country. Flooding caused by poor drainage systems has left many people homeless, an official has said.
Angola: Forty-Nine Houses Destroyed By Rain

ANGOP, 23 February 2018

At least 49 houses were destroyed by heavy rain that battered Samba Caju and Lucala municipalities, in the northern Cuanza Norte province, announced the provincial command of Civil… Read more »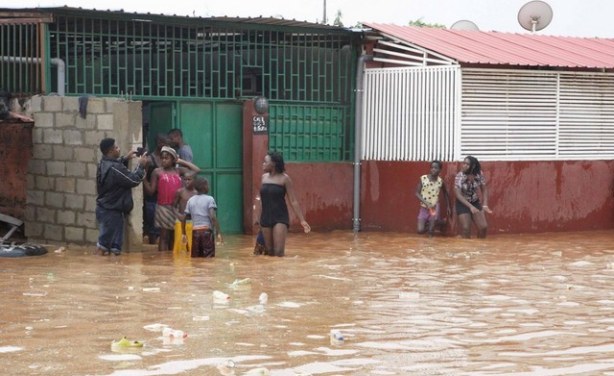 Heavy rains creating havoc, many homeless.
Angola: Over 2,000 People Left Homeless in Moxico Storm Aftermath

ANGOP, 22 February 2018

At least 2,330 people have been left homeless in eastern Moxico province after heavy torrential rains in the region which destroyed 466 houses. Read more »

Angola: Heavy Rains Create Havoc Across Country

ANGOP, 22 February 2018

The heavy rains battering across the country have caused huge damages and inundated many houses due to the poor drainage systems of the cities, said on Wednesday, in Luanda, the… Read more »

Angola: Over 80 People Affected By Rain in Huambo

ANGOP, 21 February 2018

The central Huambo province has reported forty-seven dead and 38 injured, totaling 85 people, in the current rainy season, local fire-department spokesman said Tuesday. Read more »

Angola: Luanda Flood Victims Increase

ANGOP, 21 February 2018

Three more people died from electric shock drowning, bringing the death toll from the three-day rains in Luanda to eight. Read more »

Angola: Rain Makes 140 Families Homeless in Quixicongo

ANGOP, 9 October 2017

At least 140 families of Quixicongo neighborhood in the outskirts of Uíge city were made homeless by the last windy rain that hit the region on last Sunday. Read more »