UN Panel Calls for War Crimes Trials for South Sudan
A United Nations commission has released a report chronicling instances of cruelty against civilians who have had their eyes gouged out, their throats slit or been castrated. It says children have been recruited by all sides in the conflict and forced to kill civilians; in many cases they have watched loved ones raped or killed.
South Sudan: UN Probe Accuses More Than 40 Military Officials of War Crimes

United Nations Human Rights Council, 23 February 2018

We have identified more than forty senior military officials who may bear individual responsibility for war crimes and crimes against humanity in South Sudan, said the Commission… Read more »

South Sudan: UN Probe's Findings Should be World's Wake-Up Call, Says Amnesty

AI London, 23 February 2018

Responding to today's UN Commission on Human Rights in South Sudan report detailing horrific human rights violations committed by soldiers in South Sudan, Seif Magango, Amnesty… Read more »

South Sudan: South Sudan Sentences South African Retired Army Colonel to Death

Deutsche Welle, 23 February 2018

The South African retired army colonel was a former adviser to Riek Machar, South Sudan's vice-president-turned-rebel-leader. Five years into South Sudan's civil war, thousands… Read more »

South Sudan: UN Reports on Violations of Freedom of Opinion and Expression

UN News, 22 February 2018

Undue restrictions on freedom of expression are having a "chilling effect" and "further shrinking the space for debate and dissent" in war-torn South Sudan, a new United Nations… Read more »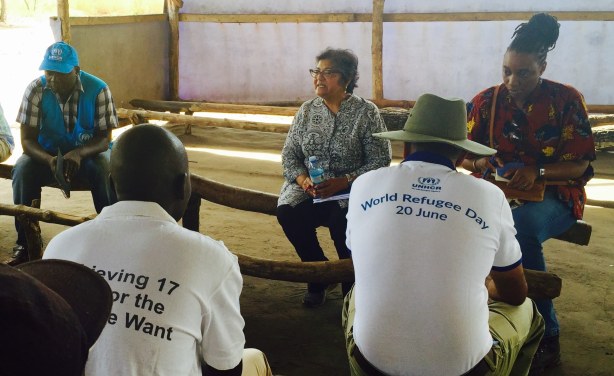 Yasmin Sooka, who chaired the Commission on Human Rights in South Sudan speaks with refugees at the Palabek refugee settlement in Uganda.
InFocus
Hunger, fuelled by a protracted civil war and a failed economy, has pushed children like 12-year-old Malit into labour or life on the streets, according to a report by the UN. Read more »

It is the first release of children by any armed group in more than year - a process that is expected to see at least 700 children freed in the coming weeks. Read more »

Pro-government protesters attacked at least two journalists in Juba, injuring one critically, while they were covering a protest against the U.S. arms embargo on the country. Read more »