Mugabe Opens Up About His Ouster as Zimbabwean President
Speaking at his 94th birthday, former president Robert Mugabe has told stunned guests that Vice-President Constantino Chiwenga, who was the army commander at the time of the 'coup', took sides with President Emmerson Mnangagwa in Zanu PF factional wars and "rolled out tanks against the people." He says the new administration is persecuting his wife, Grace, by charging people linked to the awarding of her alleged fake Doctor of Philosophy degree.
Meanwhile, Grace, has been angrily hitting out at farm workers.
Zimbabwe: Mugabe Lashes Out at Army, Mnangagwa

Zimbabwe Standard, 25 February 2018

Former president Robert Mugabe yesterday opened up about his ouster last year by the army, disclosing for the first time that some people were allegedly killed and others tortured… Read more »

Zimbabwe: Grace Mugabe Fumes, Dares Workers

Zimbabwe Standard, 25 February 2018

Former first lady Grace Mugabe allegedly told her farm workers that she was untouchable and no one will force her to pay their outstanding wages, including President Emmerson… Read more »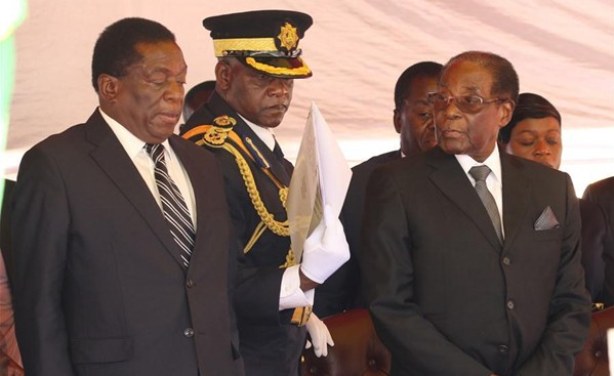 President Emmerson Mnangagwa (left) and former president Robert Mugabe (file photo).
InFocus
In a conversation with the AU Commission Chairperson Moussa Faki Mahamat, former president Robert Mugabe reportedly said the Emmerson Mnangagwa-led government was illegal and the ... Read more »

Robert Mugabe will not have his regular extravagant birthday party this year despite the 21st of February being declared a public holiday. The former president's spending over the ... Read more »

Zimbabwe's former president Robert Mugabe has reportedly not mentioned a word on the death of his toughest rival Morgan Tsvangirai. Mugabe and his wife Grace met visiting AU ... Read more »