No Medals, But Inspirational Winter Olympics For Africa
Despite the Pyeongchang games hosting the largest ever number of African nations at a single Winter Olympics event with eight African nations participating, the race to become the first African to win a medal at the Winter Olympics will have to wait until the next games in Beijing in 2022. While they did not make history as the first Africans to win a medal at the event, many African athletes made history nonetheless. From Kenya's Sabrina Simader, Madagascar's Mialitiana Clerc, Ghana's Akwasi Frimpong, South Africa's sole competitor Alpine ski racer, Connor Wilson, Nigeria's first female skeleton athlete Simidele Adeagbo, Samir Azzimani of Morocco and Togo's Alessia Afi Dipo, the continent was well represented.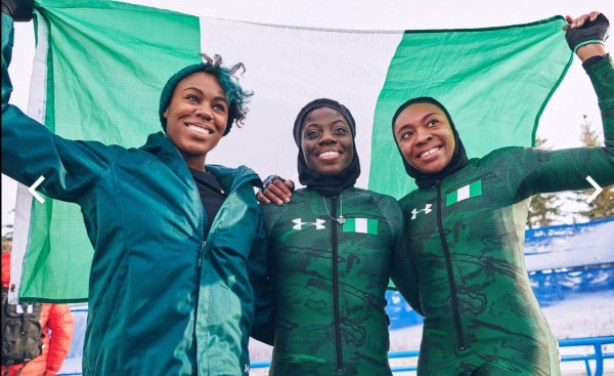 The Nigeria women's bobsleigh trio of Seun Adigun and brakemen Ngozi Onwumere and Akuoma Omeoga, qualified as the first Nigerians to compete at the Winter Olympics in 2018.
InFocus
This year, not only will the world see the largest Winter Olympics games ever, but Africa too, will fly more of its flags at the opening ceremony than ever before. Since the first ... Read more »

Skier Sabrina Wanjiku Simader has arrived in the South Korean city of Pyeongchang, ready to make history. She qualified for the Pyeongchang Winter Games in 2017 during the World ... Read more »

As one of the world's hottest continents, Africa lacks the climate for winter sports such as skiing, bobsleigh and snowboarding. Despite this disadvantage, competitors from a ... Read more »