New Political Parties to Prove a Game Changer in Sierra Leone?
Historically, the ruling All People's Congress and main opposition Sierra Leone People's Party have dominated the country's political landscape, but some new parties will be seeking to challenge this as citizens head to the polls on March 7 to choose a new president.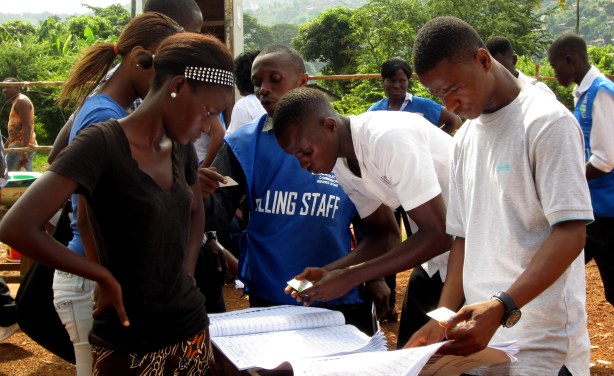 Sierra Leoneans take to the polls in Freetown, the capital of the West African nation.
Sierra Leone: What's At Stake in Critical Elections

African Arguments, 1 March 2018

The ruling APC remains resilient, but the main opposition SLPP and new kids of the block NGC are launching strong challenges. Read more »

Sierra Leone: Seeking Fair Elections, Sierra Leone Bans FGM During Campaign Season

Thomson Reuters Foundation, 5 February 2018

"So many politicians use initiation into secret society during campaigns to gain votes, especially those of women" Read more »

West Africa: MFWA, Partners Promote Media Safety Ahead of Sierra Leone's 2018 Election

MFWA, 25 February 2018

The Media Foundation for West Africa (MFWA) in partnership with the International Media Support (IMS), Denmark and in collaboration with ECOWAS and Sierra Leone-based Media Reform… Read more »

Nigeria: Jonathan Leads Observer Mission for Sierra Leone Elections

Premium Times, 1 March 2018

Nigeria's former President, Goodluck Jonathan, will lead a team of observers to Sierra Leone's general elections scheduled to take place on March 7. Read more »
InFocus
Mohamed Kamaraimba Mansaray of the Alliance Democratic Party is standing trial for alleged unlawful arms possession, a charge he has denied, saying it was politically motivated. Read more »