UN Urged to Reverse Troop Decrease in Somalia
The five East African nations who sent troops to assist in the peacekeeping effort in Somalia, have reaffirmed their commitment to the country's stabilisation effort. They have warned however, that the planned decrease of UN troops would endanger hard-fought gains made since 2007.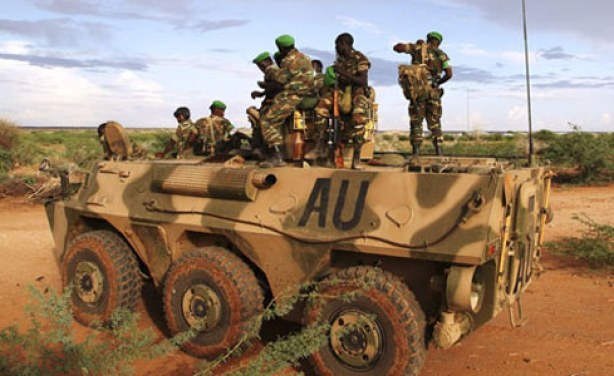 African Union soldiers atop a military vehicle on the outskirts of Burubow in the Gedo region of Somalia on February 14, 2014. Uganda is set to withdraw its troops from Somalia next year, ending a decade-long stay in the Horn of Africa country.
Somalia: At Least 5 Soldiers Killed in Related Attacks

VOA, 5 March 2018

At least five soldiers and a suicide bomber were killed in two related incidents in Somalia early Friday, according to Somali government and security officials. Read more »

Somalia: Al-Shabaab Blamed in AU Ambush

VOA, 5 March 2018

At least five African Union troops were killed in an ambush in Somalia's Middle Shabelle region Friday by al-Shabab militants, officials and security sources told VOA Somali. Read more »
InFocus
Uganda's Minister of Foreign Affairs Sam Kutesa has called on troop-contributing countries to the African Union Mission in Somalia to "establish predictable and sustainable ... Read more »

Countries contributing troop to fight against militant group Al-Shabaab say they have made significant gains, but the militant group is still very active around the country ... Read more »