Nigerian Senate President Tasks Africa on Good Governance
Senate President Bukola Saraki has listed qualitative and universal education, increased intra-African trade and support for creativity and innovation as vital factors that would foster good governance in Africa. Saraki who is in Ghana for the 25th anniversary of the Ghanaian Parliament, presented a gift of a painted and lacquered egg from Bauchi State, to promote locally-made goods.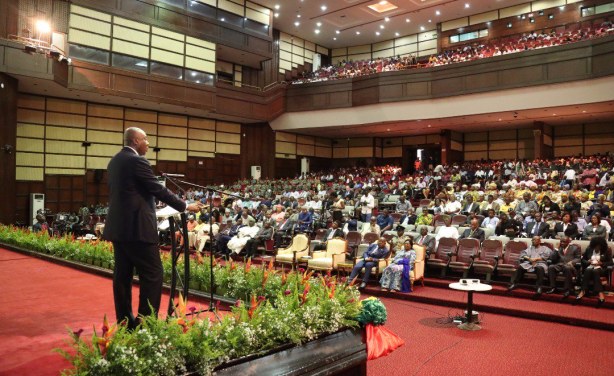 Bukola Saraki tasks Africa on good governance at Ghana 61st annivesary.
Nigeria: Saraki Presents Africa's Map-Painted Ostrich Egg to Ghana's President

Vanguard, 5 March 2018

The President of the Nigerian Senate, Dr. Bukola Saraki, has presented an ostrich egg painted with the map of Africa on it to the President of Ghana, Nana Addo Dankwa Akufo-Addo. Read more »

Africa: Saraki - Education, Trade, Creativity Vital to Good Governance in Africa

This Day, 6 March 2018

Senate President, Dr. Bukola Saraki, has listed qualitative and universal education, increased intra-African trade and support for creativity and innovation as vital factors that… Read more »

Nigeria: World Bank Officials, Saraki, Adewole Set for Summit On Health Financing in Nigeria

Premium Times, 5 March 2018

Members of the World Bank Group, Senate President Bukola Saraki and the Minister of Health, Isaac Adewole will on Tuesday headline a summit on improved healthcare financing model… Read more »