Cape Town Residents Continue #DayZero Fight as Dam Levels Drop
MEC for Local Government, Environmental Affairs and Development Planning Anton Bredell has said that the latest average level, for dams across the Western Cape, is 20.83% - compared to 30.09% for the same time last year. According to Democratic Alliance leader Mmusi Maimane, Day Zero will not occur in 2018 if water consumption rates remain at the current levels.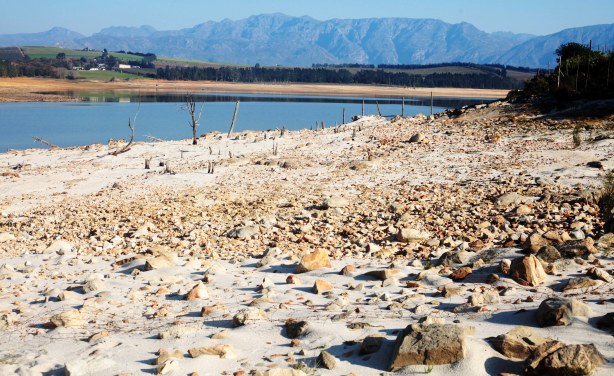 Theewaterskloof Dam on 7 June 2016.
South Africa: Western Cape Dam Levels Drop Even More

News24Wire, 5 March 2018

The latest average level, for dams across the Western Cape, is 20.83% - compared to 30.09% for the same time last year - MEC for Local Government, Environmental Affairs and… Read more »

South Africa: Your Neighbour's Loo Water to Take Water Saving to Another Level

News24Wire, 7 March 2018

Waste water from millions of lavatories, showers and baths in drought-stricken Cape Town will be treated and pumped into the massive Cape Flats aquifer - and will be used again for… Read more »

South Africa: Cape Town's Plans for What Happens After Day Zero Just Won't Work. Here's Why

The Conversation Africa, 1 March 2018

The world is watching Cape Town, counting down to Day Zero. This represents the point at which the municipality will turn off most of the city's water distribution system. The date… Read more »

South Africa: A Drought-Stricken Cape Town Did Come Together to Save Water

Daily Maverick, 1 March 2018

When people are called upon to rally around a "public good" such as conserving water, they are more likely to do so if they believe they are working together to achieve a common… Read more »