Zimbabwe Should Rejoin the Commonwealth Now - Former UK Minister
The bond between the people of Zimbabwe and the Commonwealth is close - and a cautious British Foreign Office position to wait until after "free and fair elections in July" is wrong, writes James Duddridge. He is a UK Member of Parliament and served as its Minister for Africa from 2014 to 2016.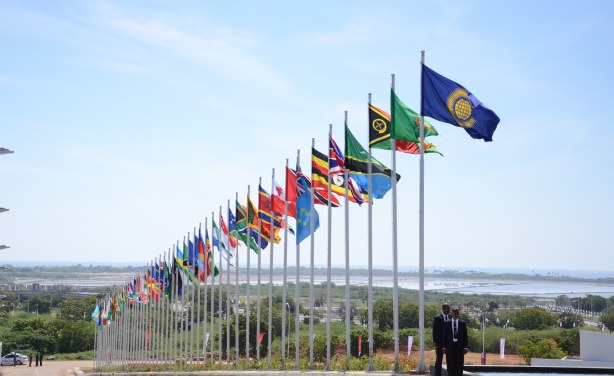 The opening of the Commonwealth Youth Forum in Hambantota, Sri Lanka in 2013.
Zimbabwe: Zim, UK On Cusp of Breakthrough

The Herald, 3 February 2018

British Prime Minister Theresa May has been impressed by statements made by President Mnangagwa so far on economic and political reforms, which have sent important signals around… Read more »

Zimbabwe: British PM Sends Envoy

The Herald, 31 January 2018

President Mnangagwa's administration is making headway in taking Zimbabwe onto the global arena, with the President this week expected to receive a special envoy from British Prime… Read more »

Zimbabwe: 'Govt Must Uphold Rule of Law'

Zimbabwe Independent, 26 January 2018

Zimbabwe needs to ensure the rule of law is upheld if it has to rejoin the Commonwealth as the club of mainly former British colonies revers that, prominent businessman Shingi… Read more »

Southern Africa: Zimbabwe, Commonwealth Reunion Beckons

The Herald, 25 January 2018

The country is on its way to rejoining the Commonwealth with President Mnangagwa yesterday saying there were no more impediments to Zimbabwe hooking up with the club of former… Read more »

Southern Africa: Zimbabwe, Britain's Perfect Opportunity

The Herald, 24 January 2018

To state, as we hereby do, that Zimbabwe and Britain -- the former colony and the once mighty empire -- need each other perhaps now more than ever, sounds uneasy, if not rather… Read more »

Zimbabwe: Credible Polls Vital - Western Diplomats

Zimbabwe Independent, 19 January 2018

ZIMBABWE will only receive significant funding from European countries after delivering a credible election and implementing reforms which entrench democracy and stimulate economic… Read more »
InFocus
President Emmerson Mnangagwa's administration is making headway in returning Zimbabwe to the global arena. The president is expected to receive a special envoy from the British ... Read more »