16 Killed as Lightning Strikes Rwandan Church
The Nyaruguru District has laid to rest the victims of the Seventh-Day Adventist Church lightning tragedy that left 16 dead and at least 140 people injured. This comes as authorities are launching a crackdown on churches that lack basic infrastructure, fall short on hygiene standards and that are contravening safety regulations.
Rwanda: Lightning Strikes Church, Kills 16

New Times, 12 March 2018

Sixteen people were struck dead by lightning on Saturday in Nyaruguru District. All but one were worshipping at Gihembe Seventh-day Adventist Church in Nyabimata Sector. Read more »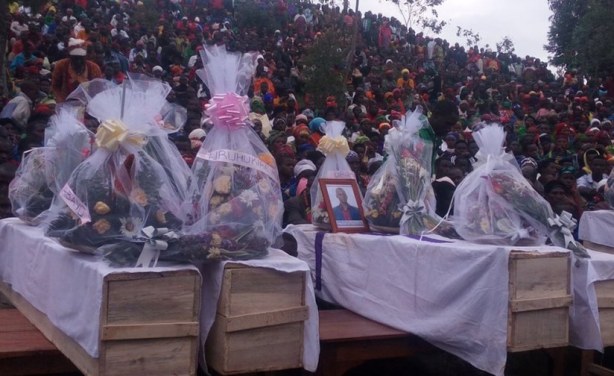 Residents of Nyabimata at the burial of the 16 residents who were struck by lightening.
InFocus
The move is part of a broader crackdown on places of worship that fall short of minimum requirements, including on quality of the buildings and noise pollution. Rwamagana District ... Read more »

"I don't think we have as many boreholes. Do we even have as many factories? But 700 churches, which you even had to close? This has been a mess," said President Paul Kagame when ... Read more »

The churches were found to lack basic infrastructure, fell short of hygiene, breached safety regulations and their legal statuses was unconfirmed, local leaders have said. Other ... Read more »