UN Gives Nod to Kenya 'Presidents' Friendlier Stance
UN Secretary-General Antonio Guterres has reiterated the organisation's committment to working with the government and the people of Kenya towards consolidating peace, stability and development in the country." This follows opposition leader Raila Odinga and President Uhuru Kenyatta's agreement to work together - bringing to an end, seven months of political bickering that saw Odinga sworn-in as the "people's president" and the economy taking a downward turn.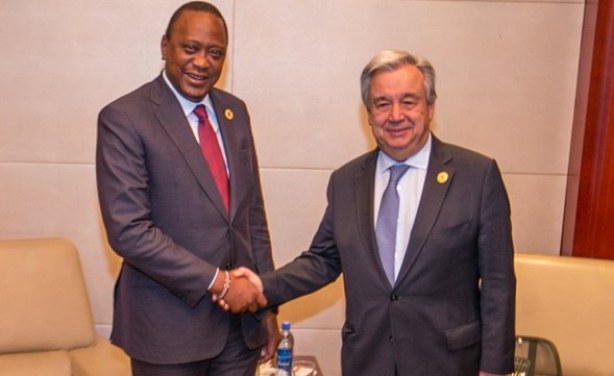 President Uhuru Kenyatta and UN Secretary-General Antonio Guterres in Addis Ababa, Ethiopia, on January 27, 2018.
InFocus
President Uhuru Kenyatta has held a surprise meeting with his political arch-rival and National Super Alliance leader Raila Odinga who swore himself in as "People's President." ... Read more »

The leader of the National Super Alliance (Nasa) Raila Odinga has reiterated that the coalition is ready to hold talks with the government to end the "political crisis" in the ... Read more »

The National Super Alliance leader Raila Odinga has accused envoys of serving selfish interests after they endorsed President Uhuru Kenyatta's victory in 2017 elections. He was ... Read more »