Zimbabwe Diaspora Vote Feasible Or Just A Pipe Dream?
The Constitutional Court has reserved judgment in a case in which three Zimbabweans are challenging government's decision to bar Zimbabweans in the diaspora from voting in their countries of residency in the forthcoming polls. The opposition has been lobbying for the millions of Zimbabweans based abroad to be allowed to vote but the government says Zimbabwe lacks the capacity to facilitate that process.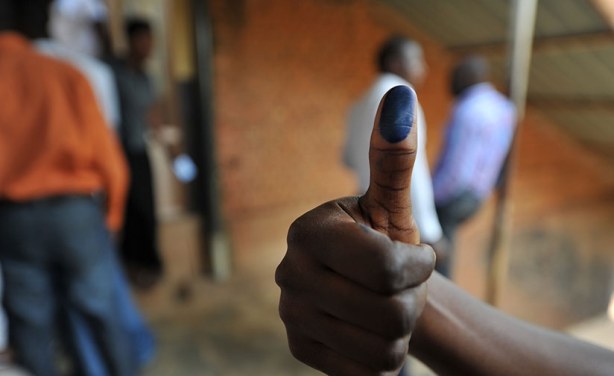 A voter shows his thumbs with ink after voting (file photo).
Zimbabwe: Concourt Sets Date for Hearing of Diaspora Vote Challenge

263Chat, 7 February 2018

The Constitutional Court will on Wednesday 14 February 2018 hear an application filed by three Zimbabweans challenging some restrictive provisions of the Electoral Act, which… Read more »

Zimbabwe: UN Wants to Know How It Can Support Elections

New Zimbabwe, 14 March 2018

A senior United Nations Development Program (UNDP) officer will visit Zimbabwe this week where he will meet President Emmerson Mnangagwa and his two aides, vice presidents Kembo… Read more »

Zimbabwe: Election Watchdogs Concerned

Zimbabwe Independent, 9 March 2018

Zimbabwe's election watchdogs are concerned that the country could hold its harmonised election without the alignment of electoral laws to the current constitution after some… Read more »

Zimbabwe: Army Must Respect 2018 Poll Result - Chamisa

New Zimbabwe, 22 January 2018

The military, which effectively put President Emmerson Mnangagwa into office, must commit to accept his "certain" election defeat, the opposition MDC Alliance has said. Read more »

Zimbabwe: After Military Intervention, Army Poses New Election Headache

Kubatana.net, 23 February 2018

When the army stepped in to put pressure on former president Robert Mugabe to leave office last November-which he did as we all know-thousands united in celebrating the exit of a… Read more »

Zimbabwe: Opposition Expresses Misgivings Over Election Preparedness

Zimbabwe Standard, 28 January 2018

President Emmerson Mnangagwa is under pressure to deliver free, fair and credible elections if the country is to stand any chance of improving its relations with the West, revive… Read more »