Kenya University Staff Reject Pay Deal
Education Cabinet Secretary Amina Mohamed has asked striking university staff to give her ministry more time to consult with other government agencies on finding a permanent solution to their problems. The vice-chancellors had offered them U.S.$67 million to be used to pay salaries and housing allowances for staff and lecturers, for the 2017/2018 financial year.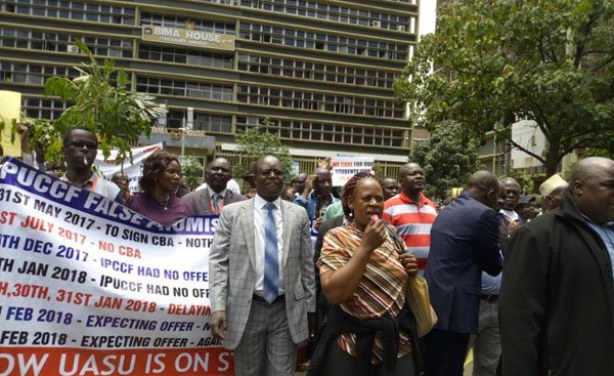 Lectures protest in Nairobi on March 14, 2018.
Kenya: Vice-Chancellors Offer Striking University Staff Sh6.8 Billion

Nation, 14 March 2018

Striking university staff have been offered Sh6.8 billion by their employer. Read more »

Kenya: Lectures Stage Demos in Nairobi Over Salaries

Nation, 14 March 2018

Public University lectures on Wednesday staged a demonstration at the ministry of Education seeking audience with Education Cabinet Secretary Amina Mohamed. Read more »

Kenya: Over 600,000 Miss Lessons as Varsity Strike Enters Third Week

Nation, 11 March 2018

Over 600,000 students in public universities may continue to miss lessons as lecturers line up several activities to strengthen their strike, which enters its third week on Monday. Read more »

Kenya: SRC, Vice Chancellors on the Spotlight Over Persistent Varsity Strikes

Capital FM, 8 March 2018

University lecturers officials have attributed their woes and the persistent strikes to the Salaries and Remuneration Commission (SRC) and the respective Universities Vice… Read more »

Kenya: Striking Dons to Meet With Senate Committee on Education

Capital FM, 8 March 2018

Striking university lecturers will on Thursday meet with the Senate Committee on Education to highlight some of the difficulties they undergo in the course of their duties. Read more »

Kenya: Students in Public Varsities Feel Pinch of Dons' Strike

Nation, 7 March 2018

Students in most public universities are learning on their own as the lecturers strike which is in its second week continues to bite. Read more »

Kenya: VCs and Lecturers Trade Blame Over Strike As Students Suffer

Nation, 5 March 2018

A war of words has erupted between lecturers and vice chancellors, dashing hopes for resumption of studies in 31 public universities. Read more »
InFocus
Members of various university staff unions have said they will not return to work until the government agrees to table a counter-offer to their 2017-2021 collective bargaining ... Read more »

In its proposal, the Universities Academic Staff Union wants a graduate assistant to earn a basic salary of between U.S.$1,935 and U.S.$3,026, assistant lecturer to get between ... Read more »

The lecturers have been on strike since November 1, 2017, demanding higher pay. Read more »