Hospital Refutes Claims of Fake Hepatitis B Vaccinations
The Univic Medical Centre, a health facility in Kampala, has refuted the claim by the National Drug Authority that they were administering fake Hepatitis B vaccines to clients. This comes after the parliamentary health committee directed an immediate stop to Hepatitis B vaccinations at private health facilities.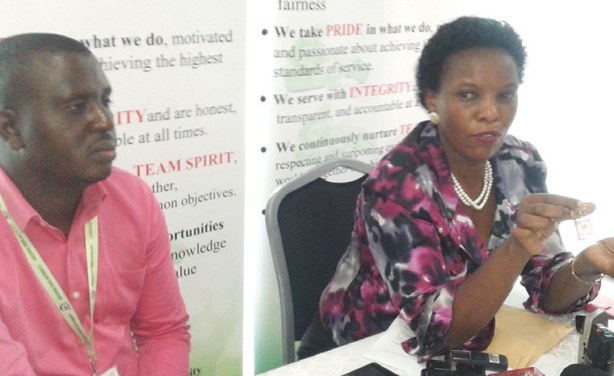 National Drug Authority director, product safety, Hellen Ndagije, right, displays some of the fake vaccines as NDA's regulatory officer Amos Atumanya looks on.
Uganda: Parliament Suspends Hepatitis B Vaccination in Private Clinics and Hospitals

Independent (Kampala), 14 March 2018

Kampala, Uganda | GODFREY SSALI | The Parliamentary health committee has directed an immediate stop in Hepatitis B vaccination by private health facilities. Read more »

Uganda: Halt Hepatitis B Vaccination, MPs Order

Monitor, 15 March 2018

Parliament's Health Committee has ordered private health facilities to stop carrying out Hepatitis B vaccination until the Health Ministry issues special approval. Read more »

Uganda: NDA Seizes Fake Hepatitis Vaccines

Observer, 14 March 2018

The National Drug Authority (NDA) is investigating how eight private hospitals and clinics came to sell counterfeit hepatitis B vaccines in Mbarara, Kampala and Mbale. Read more »

Uganda: Government Probes Hospitals Over Fake Hepatitis B Vaccines

Monitor, 15 March 2018

The government is set to investigate health facilities that the National Drug Authority (NDA) said it found with stocks of fake Hepatitis B vaccines. Read more »

Uganda: NDA Should Put Its Act Together

Monitor, 15 March 2018

On Tuesday, the National Drug Authority (NDA), announced the presence on the market of fake Hepatitis B drugs, which it said are being administered in immunisation camps. Read more »