Opposition Wins Ugandan By-Election
The opposition Forum for Democratic Change candidate Paul Mwiru has won the Jinja East by-election, beating his competitor and main challenger, the ruling party's Igeme Nathan Nabeta and six others. This is the fifth time the two have contested elections against each other.
Uganda: Mwiru Regains Jinja East Seat With 56%

Independent (Kampala), 16 March 2018

FDC's Paul Mwiru has won the hotly contested Jinja East by-election, getting 6654 votes (56%) against NRM Nathan Igeme Nabeta's 5043 (42%). The Electoral Commission confirmed the… Read more »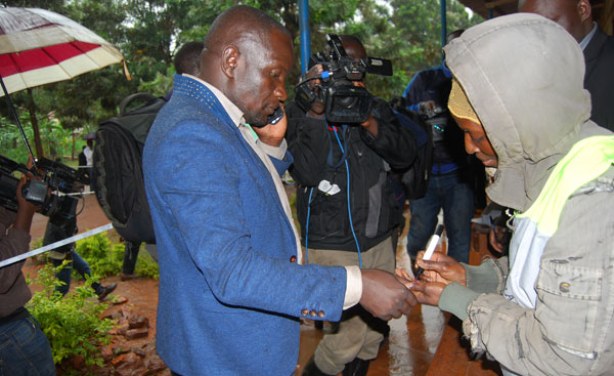 Paul Mwiru, accompanied by the Leader of Opposition in Parliament, Winnie Kizza, casts his vote at Walukuba East Primary School.
Uganda: 11 Detained At Jinja CPs for Disrupting Jinja East Poll

Monitor, 16 March 2018

Police in Jinja have confirmed that they have in custody 11 people for allegedly disrupting yesterday's Jinja East MP by-election. Read more »

Uganda: FDC's Mwiru Wins Jinja East By-Election

Observer, 15 March 2018

Forum for Democratic Change candidate Paul Mwiru has been declared winner of the Jinja East by-election by the Electoral Commission. Read more »

Uganda: FDC's Paul Mwiru Wins Jinja East By-Election

Monitor, 15 March 2018

The Opposition Forum for Democratic Change (FDC) candidate, Mr Paul Mwiru has won the Jinja Municipality East Constituency election, beating his competitor and main challenger,… Read more »

Uganda: FDC's Mwiru Takes Early Lead in Jinja East By-Election

Monitor, 15 March 2018

Mr Paul Mwiru, the FDC candidate is leading his main challenger, Nathan Igeme Nabeta from the ruling NRM and six others in the Jinja East MP by-election, according to provisional… Read more »
InFocus
Ruling party and opposition supporters have taken to the streets in Jinja ahead of a by-election which has brought out the big guns of Ugandan politics. President Yoweri Museveni ... Read more »