Will Ramaphosa's 'New Dawn' Ripple Across Southern Africa?
The recent decision by South Africa's President Cyril Ramaphosa to make his first official tour of the Southern African Development Community region so soon after taking office hopefully reflects a desire to prioritise it in the country's foreign policy, writes Talitha Bertelsmann-Scott.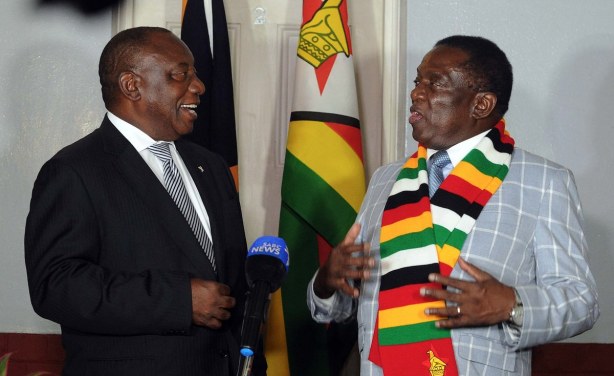 President Cyril Ramaphosa of South Africa and President Emmerson Mnangagwa of Zimbabwe meet in Harare on March 17, 2018.
South Africa: President Ramaphosa Visits Mozambique

News24Wire, 17 March 2018

President Cyril Ramaphosa, in his capacity as Chair of the Southern African Development Community (SADC), has arrived in Maputo, Mozambique on a working visit on Saturday. Read more »

Zimbabwe: Ramaphosa Expected in Harare

The Herald, 16 March 2018

South African President Cyril Ramaphosa is expected in Zimbabwe tomorrow on a working visit that will see him discussing bilateral relations with his counterpart, President… Read more »

South Africa: Ramaphosa On Working Visit to Mozambique and Zimbabwe

Govt of SA, 15 March 2018

President Cyril Ramaphosa will undertake a Working Visit to the Republic of Mozambique and the Republic of Zimbabwe on 17 March 2018 as the Chair of the Southern African… Read more »
InFocus
President Cyril Ramaphosa has as SADC Chairperson, visited Angola, Namibia and Botswana in the space of three days to strengthen bilateral relations, saying that the 3 have left ... Read more »