Kenya President Back From Cuba With Sweet Healthcare Deal
President Uhuru Kenyatta has secured an arrangement with Cuba to have 100 medical specialists work in the country, while Kenya dispatches 50 doctors to Cuba for specialist training. The two countries will also work on collaborative research projects, develop training for primary healthcare workers, and collaborate to build capacity to undertake genetic engineering and biotech work.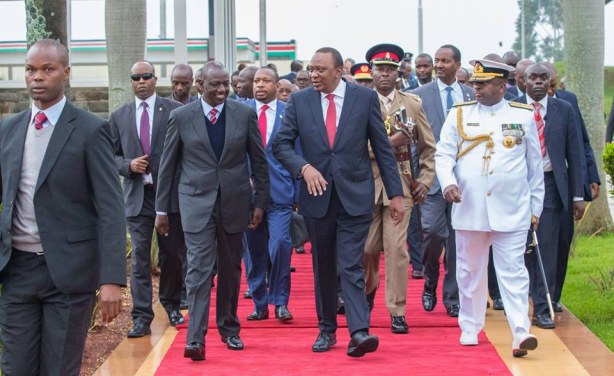 President Kenyatta jets back to Nairobi after landmark State visit to Cuba.
Kenya: President Kenyatta Concludes Historic Cuba Visit High On Health

Capital FM, 18 March 2018

President Uhuru Kenyatta today concluded his historic State visit to the Caribbean nation of Cuba that was sharply focused on health, trade and heritage. Read more »

Kenya: Kenya Invites Cuba to Co-Host Blue Economy Conference

Capital FM, 18 March 2018

Kenya has invited Cuba to co-sponsor the High-Level Conference on Sustainable Blue Economy Conference scheduled to be hosted by Kenya in November 2018. Read more »

Kenya: Employ Kenyan Doctors Before Cuba Import Deal, Urges Union

Nation, 18 March 2018

The Kenya Medical Practitioners, Pharmacists and Dentists Union is demanding the recruitment of more than 1,200 local doctors before importation of medics from Cuba. Read more »

Kenya: Cuba to Second Doctors to Kenya

Kenya Presidency, 17 March 2018

Kenya has agreed to accelerate a health agreement it signed with Cuba last year, by importing doctors from the Caribbean nation to fill gaps in county hospitals as President Uhuru… Read more »

Kenya: President Kenyatta Secures Deal That Will Transform Healthcare

Capital FM, 17 March 2018

Kenya is on the edge of far-reaching agreements with Cuba that will transform healthcare and deliver on one of President Uhuru Kenyatta's key priorities in his second and final… Read more »
InFocus
President Uhuru Kenyatta, during his 3-day state visit, will learn more on Cuba's success in its well-developed preventive health care system, including the discovery of vaccines ... Read more »