Floods Leave a Trail of Death, Destruction in Kenya
Dozens have been reported dead due to flash floods that have caused road accidents, swept people away and drowned others. In Kilifi and Tana River counties, some 800 families displaced by floods are in dire need of food, shelter and clothing.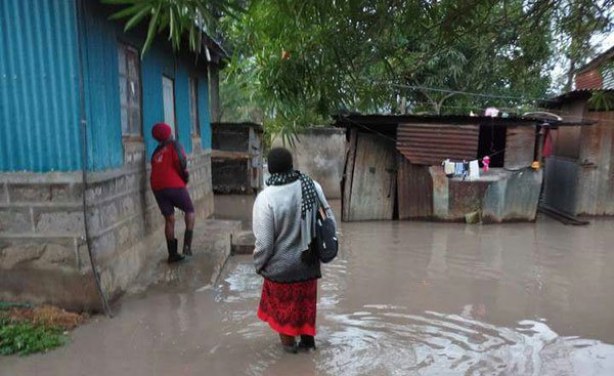 A woman and her son struggle to access their marooned home in Kilimambogo, Thika, Kiambu County on March 16, 2018.
Kenya: Floods - MP Speaks Out on Photo That Shocked Social Media

Nairobi News, 19 March 2018

Muhoroni MP Onyango KOyoo has denied claims on social media that he was marooned in flood water at an undisclosed location. Read more »

Kenya: Floods in Parts of Isiolo County Leave Three People Dead

Nation, 19 March 2018

At least three people have died after being swept away by flood waters in Isiolo, County Commissioner John Ondego has said. Read more »

Kenya: Floodwaters Kill Woman and Her Baby in Homa Bay Town

Nation, 18 March 2018

A woman and her child were killed on Sunday after they were swept away by floodwaters in Homa Bay Town. Read more »

Kenya: Six More Die as Heavy Rains Wreak Havoc

Nation, 18 March 2018

Six people died over the weekend as rains continued to pummel many parts of the country. Read more »

Kenya: Floods - Villagers Spend Night on Trees in Marsabit

Nation, 16 March 2018

Desperate situations call for desperate measures and the Kenyans who came face to face with the blessing-turned-curse that is rains know this only too well. Read more »

Kenya: Tragedy As Two 4-Year-Olds Swept Away By Floods

Nairobi News, 18 March 2018

Two 4-year old girls have been swept away by floods in Kamboo and Syumile villages in Makueni County after heavy rains that pounded the area on Saturday night. Read more »

Kenya: Nairobi Sets Aside Sh194 Million to Deal With Flooding

Nation, 17 March 2018

City Hall together with the Directorate of Urban and Nairobi Metropolitan Development have set aside Sh194 million to address the flooding menace in the county and avert similar… Read more »

Kenya: Floods Force Eight Schools to Close in Nairobi

Nation, 16 March 2018

Eight schools in Nairobi County were closed on Thursday and children forced to go home after floods disrupted classes for the better part of the day. Read more »

Kenya: Heavy Rains Flood Nairobi

Nation, 15 March 2018

A morning downpour has flooded parts of Nairobi City, wreaking havoc for commuters headed to work. Read more »
InFocus
Motorists have been urged to use alternate routes on the Nakuru Highway, especially those going to or coming from Kisii and Narok after a section of the Narok-Mai Mahiu road ... Read more »

Areas in western, south and central Rift Valley and central Kenya, including Nairobi, are expected to receive heavy rainfall of more than 40mm in 24 hours. The Kenya Meteorological ... Read more »

The alert comes amidst a drought that has affected more than 241,000 coastal residents, while those living in towns have been advised to be on the lookout for flash floods, which ... Read more »