Kenya's Ruling Party Slams British Firm's Kenyatta Poll Claims
The ruling Jubilee Party has dismissed data mining company Cambridge Analytica's claims that they had secretly worked on President Uhuru Kenyatta's campaign in the 2013 and 2017 elections. The company has said that they developed a digital campaign that portrayed the president in a positive light, while smearing his main rival Raila Odinga.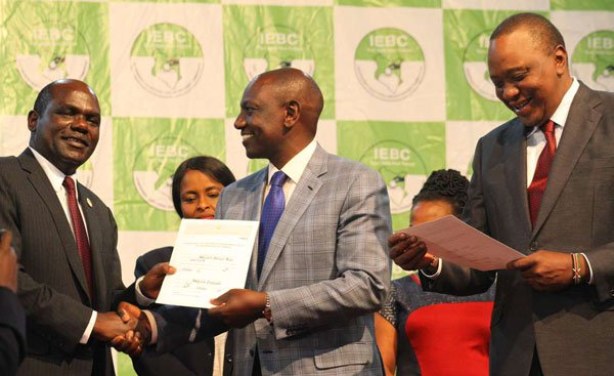 IEBC chairman Wafula Chebukati (left) presents Deputy President William Ruto with a certificate after Uhuru Kenyatta was declared winner of the presidential election, at the Bomas of Kenya on October 30, 2017.
Kenya: Cambridge Analytica Election Scandal - Kenyans Demand the Truth

Nation, 21 March 2018

An investigation that revealed the role of Cambridge Analytica in the Kenyan elections has elicited mixed reactions from Kenyans on social media. Read more »

Kenya: Kenyans Debate Cambridge Analytica's Alleged Involvement in 2017 Elections

Deutsche Welle, 20 March 2018

Cambridge Analytica, a British data analysis firm that is under fire for mining data from millions of Facebook users, also ran Kenyan President Uhuru Kenyatta's re-election… Read more »

Kenya: Chris Wylie Says He Regrets His Role in Setting Up Cambridge Analytica

Nation, 20 March 2018

One of the founders of Cambridge Analytica, a firm that says it worked for Uhuru Kenyatta's re-election in 2013 and re-election in 2017, now says he regrets setting up the… Read more »

Kenya: Dennis Itumbi Taunted for Tweets Delinking Uhuru From Cambridge Analytica

Nairobi News, 20 March 2018

Twitter never forgets. Read more »

Kenya: Why Facebook's Suspension of Cambridge Analytica is Instructive for Kenya

Nation, 20 March 2018

Very few Kenyans had heard of a company called Cambridge Analytica until last week, when Facebook suspended it from operating on its platform. Cambridge Analytica is the company… Read more »

Kenya: Cambridge Analytica Ex-Director Regrets Setting Up the Firm

Nation, 20 March 2018

One of the founders of Cambridge Analytica, a firm that says it worked for Uhuru Kenyatta's re-election in 2013 and re-election in 2017, now says he regrets setting up the… Read more »
InFocus
Mark Turnbull, the managing director of Cambridge Analytica's Political Global, says they engineered a digital campaign that painted President Uhuru Kenyatta in a positive light ... Read more »