Zimbabwe Govt Demands U.S.$1 Billion from DR Congo - Report
According to reports, President Emmerson Mnangagwa, who was in the Democratic Republic of Congo capital Kinshasa, discussed several issues with President Joseph Kabila, among them, "Zimbabwe's long-standing demand for U.S.$1 billion compensation for participating in the DR Congo war". Although diplomatic relations between the two countries have continued to be cordial, Harare and Kinshasa have a long-standing disagreement over compensating the Zimbabwean government for its active role in the 1990s war, dubbed "Africa's first world war" where Zimbabwe's decisive intervention saved Kinshasa from a military takeover by rebels backed by neighbouring Rwanda and Burundi.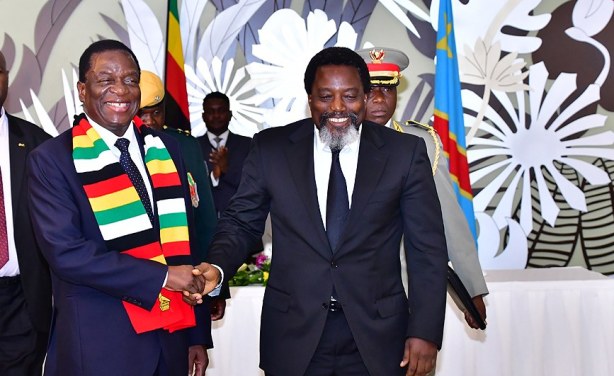 President Emmerson Mnangagwa and President Joseph Kabila (file photo).
Zimbabwe: Mnangagwa Demands U.S.$1 Billion War Compensation From DR Congo

Zimbabwe Independent, 9 March 2018

PRESIDENT Emmerson Mnangagwa last week took his election campaign begging bowl to Democratic Republic of Congo (DRC) President Joseph Kabila, where the two leaders also discussed… Read more »

Zimbabwe: President Heads for DRC

The Herald, 27 February 2018

President Mnangagwa today leaves for the Democratic Republic of Congo (DRC) to meet his counterpart President Joseph Kabila as he resumes his courtesy calls on fellow Heads of… Read more »

Zimbabwe: We Stand Ready to Partner DR Congo - Mnangagwa

The Herald, 28 February 2018

President Mnangagwa has said Zimbabwe and the Democratic Republic of Congo must fully exploit the potential value of their partnership and investment prospects that would translate… Read more »