Why Nigeria Opted Out of AU Trade Deal - Buhari
President Muhammadu Buhari has said his administration will not be in a hurry to enter into any agreement that would make the country a dumping ground and jeopardise the security of the nation. Buhari also said that Nigeria was yet to fully understand the economic and security implications of the agreement.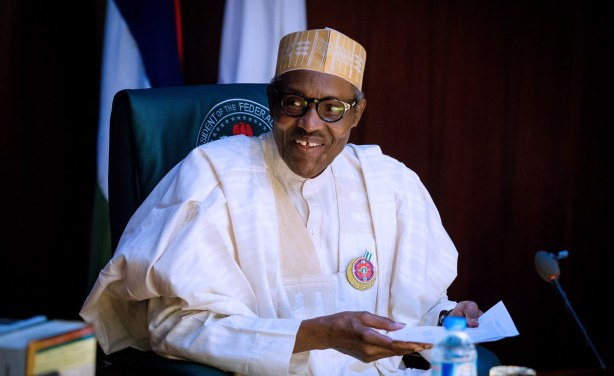 President Muhammadu Buhari.
Nigeria: Nigeria, South Africa Stay Away As 44 African Countries Sign Trade Treaty Deal

This Day, 22 March 2018

The two biggest economies in Africa, Nigeria and South Africa, were wednesday conspicuously absent as 44 leaders of African countries signed a deal to create one of the world's… Read more »

Africa: Nigeria, South Africa Absent As 44 African Countries Sign Trade Deal

Guardian, 22 March 2018

Forty-four African countries yesterday proceeded with the signing of the agreement that established the African Continental Free Trade Area (AfCFTA) without the two biggest… Read more »

Nigeria: I Won't Allow Nigeria to Be Dumping Ground - Buhari

Vanguard, 22 March 2018

President Muhammadu Buhari, yesterday, said his administration will not be in a hurry to enter into any agreement that would make the country a dumping ground and jeopardise the… Read more »

Nigeria: Nigeria Yet to Understand Economic, Security Implications of AfCFTA

Daily Trust, 21 March 2018

President Muhammadu Buhari has said that anything that could encourage the dumping of finished goods in Nigeria would going to be contrary to the country's interest. Read more »

Nigeria: MAN Supports Buhari On Refusal to Sign African Trade Agreement

Premium Times, 21 March 2018

The Manufacturers Association of Nigeria (MAN) ‎on Wednesday strongly supported the move by the federal government on its refusal to sign the agreement establishing the African… Read more »

Nigeria: Govt Sets Up Committee to Review Africa Free Trade Agreement Proposal

Premium Times, 21 March 2018

The Federal Executive Council (FEC) on Wednesday agreed to set up a committee to meet and review within two weeks the content of the proposal for the Continental Free Trade… Read more »

Africa: 44 Countries Sign Africa's Trade Pact

Daily Trust, 22 March 2018

Representatives of 44 countries out of 55 member countries of the African Union (AU) have signed the African Continental Free Trade Area (AfCFTA) pact in Kigali, Rwanda. Read more »
InFocus
President Muhammadu Buhari has cancelled his trip to Rwanda for the signing of the Continental Free Trade Area framework in order to allow more time for input from more Nigerian ... Read more »