Explosions Rock Somali Capital
The explosion occurred at checkpoints leading to a number of key installations, including the Ministry of Interior, Parliament, and one used by security forces to defend the presidential palace.
Somalia: Car Bomb Explodes in Mogadishu

VOA, 26 March 2018

Two car bombs in the Somali capital killed six people and injured at least five others on Sunday, witnesses said. One of the car bombs exploded at a key checkpoint in Mogadishu,… Read more »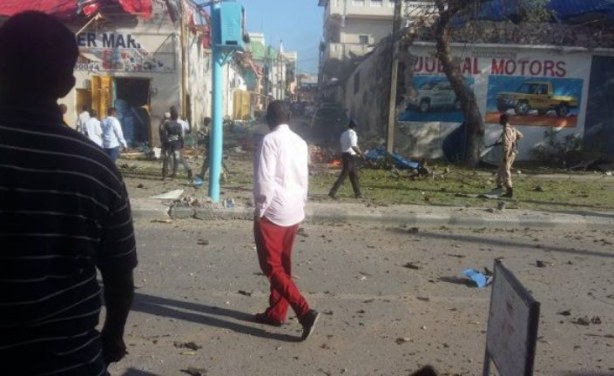 Bomb in Mogadishu (file photo).
Somalia: Two Civilians Wounded in Grenade Explosion in Mogadishu

Shabelle, 25 March 2018

At least two civilians were wounded in a grenade bomb explosion in Mogadishu, the Somali capital on Saturday night, the latest in series of insecurity incidents in the seaside… Read more »

Somalia: Huge Car Bomb Explosion Occurred in Mogadishu

Shabelle, 25 March 2018

A car bomb blast occurred at a security checkpoint outside Somali parliament building in Mogadishu, the Somali capital on Sunday afternoon, causing casualties. Read more »

Somalia: Two Dead, 3 Wounded in Separate Explosions in Mogadishu

Shabelle, 26 March 2018

At least two people were confirmed dead and three injured in two separate landmine explosions reported in Mogadishu on Monday morning. The first explosion targeted a vehicle in… Read more »

Somalia: The Death Toll From Mogadishu Car Bomb Attack Rises to Four

Shabelle, 25 March 2018

At least four people were killed Sunday in a suicide car bomb attack in central Mogadishu, police, and witnesses said. Read more »

Somalia: Parliament, Presidential Palace Rocked By Nearby Car Bomb Blast

Deutsche Welle, 25 March 2018

A car bomb in the Somali capital of Mogadishu has killed at least four people and injured several others, according to reports. The bomb detonated at a security checkpoint just 200… Read more »