Court Lifts Ban On Sierra Leone Run-Off Election, New Date Set
The country's run-off election is set to take place as scheduled after the High Court lifted an interim injunction, two days after it temporarily halted the vote which had been scheduled for today (March 27). The National Electoral Commission has issued a statement saying logistical issues mean the election cannot be held as scheduled, and will now take place on Saturday March 31.
Sierra Leone: New Date Set for Run-Off Election

Deutsche Welle, 26 March 2018

The country's delayed presidential election runoff will go ahead on Saturday, the National Electoral Commission said in a statement. But there are concerns that events of the past… Read more »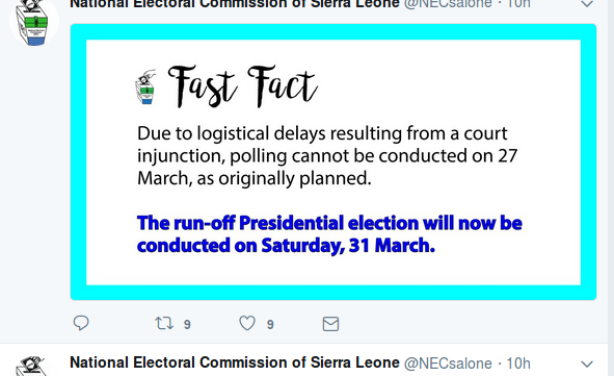 Announcement by the Sierra Leone election commission.
InFocus
The National Electoral Commission has announced March 27 for run-off in the country's presidential election as no candidate scored mandatory 55 per cent requires for victory. Read more »