Air Tanzania's Third Bombardier Finally Arrives in Tanzania
President John Magufuli was at the Julius Nyerere International Airport to receive a Bombardier Q-400 which arrived in Tanzania from Canada. The aircraft costs the state U.S.$32 million and is one of five aircrafts for the state owned Air Tanzania Company Limited which were ordered from the Montreal-based company but was confiscated after a British-registered construction company, Stirling Civil Engineering approached Canadian courts with a claim of U.S.$38 million allegedly owed by the government of Tanzania.
Tanzania: Jubilations As Third Bombardier Arrives

Daily News, 2 April 2018

AFTER prolonged delays, the government is today scheduled to receive the third airplane, Bombardier Dash 8 Q400, which had been retained in Canada since mid-last year. Read more »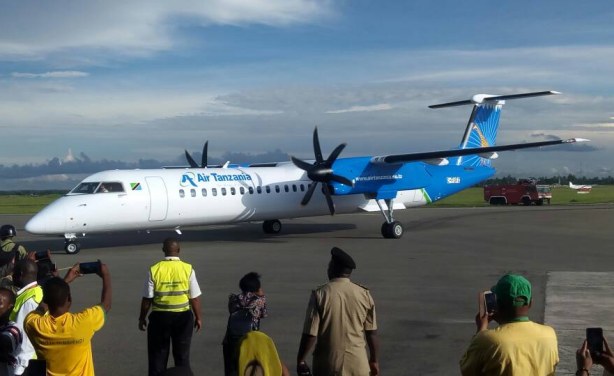 Bombardier Q-400 received a water salute, involving firefighting rigs spraying arcs of water over it as a sign of respect, honour and gratitude on its arrival in Tanzania.
InFocus
The government admits that its new commercial aircraft - a Bombardier Q400 - has been seized in Canada. Opposition leaders say the deal has been stalled because the government ... Read more »