African Innovators Break New Ground With Scientific Research
The Next Einstein Forum is setting up a U.S.$1 million fund to encourage scientific breakthroughs in Africa. This comes after Cameroonian medical doctor Conrad Tankou won the organisation's top health award for his invention of a portable digital microscope that connects to a smartphone to remotely scan for cervical cancers. This, along with blood made poisonous to mosquitos and an application to detect diseases and pests in crops, are among some of the most recent groundbreaking innovations coming from the continent.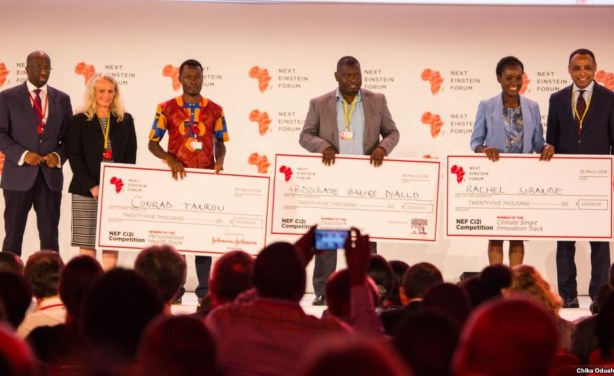 Dr. Conrad Tankou, Rachel Sibande and Dr. Abdoulaye Diallo stand on the stage at NEF holding the U.S.$25,000 checks that they won for their innovation prizes.
Nigeria: Scientists Discover Drug That Can Make Blood Poisonous to Mosquitoes

Daily Trust, 3 April 2018

An "exciting" pill can make human blood poisonous to mosquitoes and kill them, a research has suggested. Read more »

Tanzania: Give Innovation Top Priority in Industrialisation - CEO

Citizen, 29 March 2018

The government's agenda of becoming an industrialized country by 2025, can only become a reality if innovation is given precedence. Read more »

Tanzania: UDSM Students Develop APP for Detecting Crop Diseases

Citizen, 29 March 2018

University of Dar es Salaam (UDSM) students have designed an application which will enable farmers to detect crop pests and diseases. Read more »

Africa: Why Africa Should Embrace Artificial Intelligence

AXN, 28 March 2018

Machines might scare policymakers from Brussels to Washington, but artificial intelligence could yield a significant developmental dividend in the developing world. In African… Read more »

Africa: Scaling up Game-Changing Agricultural Innovations and Technologies

The Aspen Institute, 28 March 2018

The West and Central African Council for Agricultural Research and Development (CORAF/WECARD), with the support of the World Bank, recently rolled out an initiative aimed at… Read more »

Africa: Capitalizing on Africa's Sky High Potential Requires More Than Cutting Red Tape

AXN, 27 March 2018

Africa's lack of adequate air infrastructure means a loss of trade, revenue, and investment. The region's air infrastructure network sorely needs an update, and the… Read more »
InFocus
Budding entrepreneur Tawanda Chitiyo has put together a team of experts that came up with a formidable project plan to build what he termed a 'bio-refinery' in Mutare, producing ... Read more »

Diatoms, which are the equivalent of grass in the sea because of their great abundance and importance, are responsible for most of our planet's photosynthetic energy conversion. ... Read more »

Drone users have gathered at the Nairobi Drone Meetup to discuss their industry, the current and potential uses of the machines, and a looming law which aims to regulate them. Read more »