Come On Vogue, Supermodel Naomi Campbell Wants You in Africa!
Naomi Campbell has said that Vogue magazine should launch an African edition to recognize the continent's contribution to a global fashion industry that has been criticized for its lack of diversity. The supermodel made the comments when she was in Nigeria to walk in two shows that were part of Arise Fashion Week.
Nigeria: Naomi Campbell Reflects On Arise Fashion Week

This Day, 11 April 2018

Last week, Naomi Campbell visited Lagos in honour of Arise Fashion Week and BBK Africa's Homecoming - the music festival that played host to the African diaspora including Skepta,… Read more »

Africa: Naomi Campbell to Get Fashion Icon Award

Capital FM, 29 March 2018

Naomi Campbell has been selected to receive the Fashion Icon Award in recognition of her four-decade spanning modelling career. Read more »

Nigeria: #AriseFashionWeek - Naomi Campbell, RMD, Others Steal Show

Premium Times, 3 April 2018

The fifth edition of the Arise Fashion Week, which began over the weekend at Lagos Continental Hotel, Victoria Island, ended on Monday night; but the memories linger on. Read more »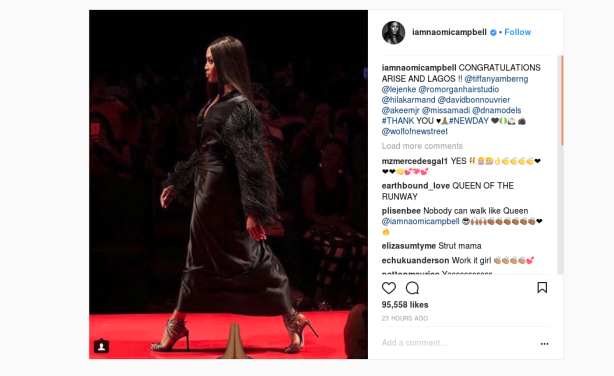 Naomi Campbell.
Video
Author:

CGTN Africa

Publisher:

Publication Date:

4 April 2018

Supermodel Naomi Campbell was recently in Nigeria for Arise Fashion Week. There, she called on glitzy fashion magazine Vogue to launch an Africa ... see more »
Nigeria: For Runway Models, Arise Fashion Week Is a Dream Come True

This Day, 1 April 2018

As the ARISE Fashion Week swing into full gear this Easter weekend, runway models can barely hide their excitement. Backstage, they added beauty to the chaos in the make-up room as… Read more »

Nigeria: Naomi Campbell, Tiffany Amber, Ozwald Boateng Dazzle As Arise Fashion Week Ends Today

This Day, 2 April 2018

The trio of Naomi Campbell, Tiffany Amber and Ozwald Boateng were part of the horde of A-list fashionistas who graced the show yesterday as the Arise Fashion Week comes to a… Read more »

Nigeria: Excitements As Arise Fashion Week Closes Today

This Day, 2 April 2018

With few hours to show time, the Arise Fashion Week models are having a mixed bag of emotions as the show draws its curtains tonight. Models are nostalgic about the moments they… Read more »

Nigeria: Arise Fashion Week Ends With a Bang, Nigerians Yearn for More

This Day, 3 April 2018

The Arise Fashion Week came to an exciting end Monday with international models drawn from across the globe and a cross-section of Nigerians who religiously followed every minute… Read more »

Nigeria: I Did Not Invite Naomi Campbell to Any Event - Buhari in Lagos

Premium Times, 31 March 2018

A presidency official has 'clarified' that President Muhammadu Buhari did not invite British model, Naomi Campbell, to any event during his two-day visit to Lagos State. Read more »

Nigeria: Naomi Campbell Visits the President For Arise Fashion Week 2018

Guardian, 30 March 2018

The long-anticipated fashion event in Africa, ARISE Fashion Week (AFW) 2018 is finally here! Read more »

Nigeria: ARISE Fashion Week Back With 45 Designers From 16 Nations

This Day, 6 March 2018

Due to popular demand, ARISE Fashion Week (AFW 2018) will make a robust return from March 30 to April 2 at the Lagos Continental Hotel (formerly known as Intercontinental Hotel). Read more »