Mnangagwa Visit Marks New Era In Zimbabwe, China Relations
Chinese President Xi Jinping has told President Emmerson Mnangagwa that they should work towards a new chapter in ties, during the Zimbabwe leader's first state visit to China since he seized power in 2017. Mnangagwa, who was sworn in as president in November after a military takeover that ended Robert Mugabe's 37-year rule, is under pressure to bring back foreign investors and resolve a severe cash crisis, mass unemployment and dramatic price increases.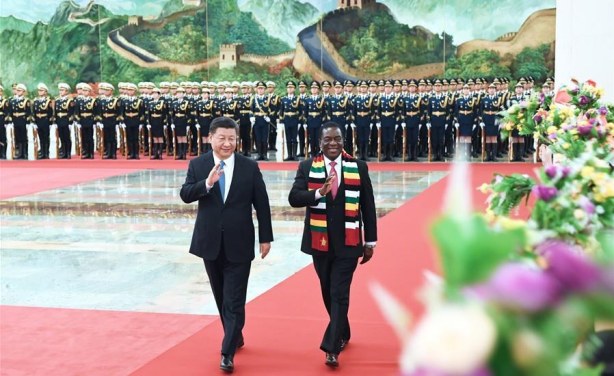 Chinese President Xi Jinping holds a welcome ceremony for his Zimbabwean counterpart Emmerson Mnangagwa.
Zimbabwe: Mnangagwa, Jinping Elevate Relations

The Herald, 4 April 2018

President Mnangagwa met his Chinese counterpart Xi Jinping at the Great Hall of the People here yesterday as Zimbabwe and China elevated their relations to a more comprehensive and… Read more »

Zimbabwe: President Arrives in China

The Herald, 2 April 2018

President Emmerson Mnangagwa arrived in China this morning for a five-day State visit during which he will meet the Chinese President Xi Jinping, senior Communist Party of China… Read more »

Zimbabwe: China Rages at Mnangagwa's 'Illegal' Looters List

New Zimbabwe, 30 March 2018

President Emmerson Mnangagwa's upcoming State visit to China is likely to bring him face to face with angry businesspeople from the Asian giant whom his government included in a… Read more »

Zimbabwe: Mnangagwa Vows Chinese Looters Will Face Full Wrath of the Law

New Zimbabwe, 29 March 2018

CHINESE nationals named on the list of looters recently published will face the full wrath of the law despite the fact their government stood by the Zimbabwean government in… Read more »
InFocus
Chinese businesspeople have reportedly described the "looters list" published by Zimbabwean President Emmerson Mnangagwa as flawed after many of them were named. Mnangagwa rel Read more »