The Most Touching Tributes to Winnie Madikizela-Mandela
"Your legacy will be an uplifting beacon from which we can continue to draw guidance and strength during difficult times." - Graca Machel.
Angela Davis perfectly sums Mama Madikizela-Mandela when she said: "Revolution is a serious thing, the most serious thing about a revolutionary's life. When one commits oneself to the struggle. It must be for a lifetime".
"Her courage, fearlessness, compassion and her selfless commitment to the struggle for freedom gave hope to millions of South Africans - especially during the darkest days of the struggle." - Sophie de Bruyn
"No other woman - in life and after - occupies the place that Winnie Madikizela-Mandela does in South African politics."
Tributes continue pouring in for the woman who kept the spirit of resistance alive during the struggle against apartheid in South Africa...
South Africa: Graca Machel Writes Last Letter to 'Big Sister' Winnie Madikizela-Mandela

Graça Machel Trust, 4 April 2018

My Big Sister,It is with a heavy heart that I address you today. As I struggle to accept your transition, I take solace in the fact that you have risen to become one of the… Read more »

South Africa: Activist Sophia De Bruyn Speaks of Her Last Moments With Winnie

News24Wire, 4 April 2018

apartheid activist and friend of Winnie Madikizela-Mandela, Sophia de Bruyn had spent some time with the struggle icon when she was hospitalised last month. Read more »

South Africa: 'We Will Carry on With the Revolution in Your Glorious and Heroic Name'

EFF, 2 April 2018

The EFF sends its revolutionary condolences on the passing of Mama Winnie Mandela. We send our heartfelt condolences to the family, the ANC, South Africans and all peoples of the… Read more »

South Africa: Archbishop Emeritus Tutu - 'May Mam' uWinnie Rest in Peace and Rise in Glory'

Desmond and Leah Tutu Legacy Foundation, 2 April 2018

Winnie Madikizela-Mandela was for many years a defining symbol of the struggle against apartheid. She refused to be bowed by the imprisonment of her husband, the perpetual… Read more »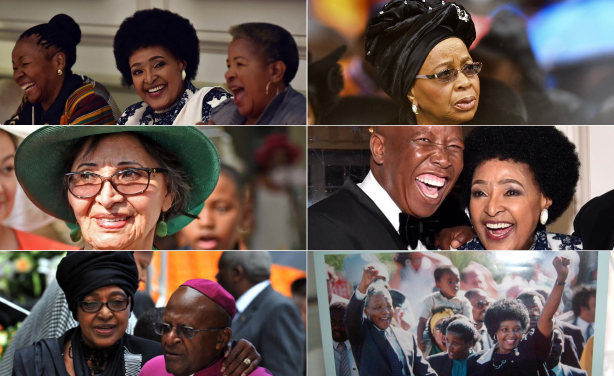 (file photos)
South Africa: Winnie Madikizela-Mandela - Revolutionary Who Kept the Spirit of Resistance Alive

The Conversation Africa, 3 April 2018

No other woman - in life and after - occupies the place that Winnie Madikizela-Mandela does in South African politics. A stalwart of the African National Congress (ANC), she… Read more »

South Africa: SA Will Wait a Long Time for 'Lioness' Like Winnie - ANCWL

News24Wire, 3 April 2018

South Africans will have to wait a long time before they see the likes of another "lioness" like Winnie Madikizela-Mandela, who "fought the apartheid regime as well as the… Read more »

South Africa: Winnie Madikizela Mandela - a Tribute

Daily Trust, 4 April 2018

As a palpable cloud of sadness constantly envelope our hearts, it would appear that there are no dull moments in the anti-apartheid heaven. The number of saints joining the band… Read more »

South Africa: A Tribute to Winnie Madikizela-Mandela

Daily Maverick, 2 April 2018

This poem was penned as a tribute to Madikizela-Mandela and will be published as part of his poetry anthology later this year. Read more »

South Africa: We Are Very Proud of 'Our Princess' Madikizela-Mandela - Amampondo King

News24Wire, 3 April 2018

AmaMpondo King Ndamase Ndamase has lauded Winnie Madikizela-Mandela, saying he and his kingdom were "very proud" of the role their "princess played in the fight against the… Read more »

South Africa: Madikizela-Mandela 'Was Rooted Among Her People' - Nathi Mthethwa

News24Wire, 3 April 2018

Mandela's weaknesses were trumped by her dedication to the liberation of her people, Minister of Arts and Culture Nathi Mthethwa said during a visit to the Madikizela-Mandela… Read more »

South Africa: Gender Equality Mourns the Passing Away of Mama Winnie Madikizela-Mandela

Govt of SA, 2 April 2018

Today South Africans and rest of the world received the sad new of Mama Nomzamo Winnie Madikizela-Mandela's passing. The former struggle stalwart and heroine of the liberation… Read more »

South Africa: 'Winnie Never Elevated Herself Above the People' - Thabo Mbeki Foundation

News24Wire, 3 April 2018

The Thabo Mbeki Foundation has praised Winnie Madikizela-Mandela's contribution to the apartheid liberation struggle, following her passing on Monday at the age of 81. Read more »

South Africa: 'SA Poorer Without Her' - SACP Reacts to Madikizela-Mandela's Death

News24Wire, 3 April 2018

The South African Communist Party (SACP) says it is deeply worried "that the South African revolution is losing the veterans who contributed immensely to our struggle against… Read more »

South Africa: Winnie Madikizela-Mandela (1936-2018)

This Day, 3 April 2018

Most truly great men of history almost always have the rare gift of being supported by strong but often complicated women. The late South African icon and one of the greatest men… Read more »

South Africa: 'I Lost a Biological Mother' - Zizi Kodwa On Madikizela-Mandela

News24Wire, 3 April 2018

Former ANC spokesperson Zizi Kodwa says he has "lost a biological mother" following the death of struggle and liberation veteran Winnie Madikizela-Mandela. Read more »