Proteas Rewrite Cricket History Books With Aussie Win
A drama-filled four-Test tour was won by the Proteas 3-1 with a crushing 492-run win in the final match in Johannesburg, handing them their first series victory at home against Australia since 1969/70!
A ball-tampering scandal during the third Test in Cape Town saw former Australia captain Steve Smith, David Warner and Cameron Bancroft, suspended, while coach Darren Lehmann quit in the aftermath. And on South Africa's side, fast bowler Kagiso Rabada's shoulder contact with Steve Smith at Newlands saw him fighting a test match suspension which he won, while batsman and wicketkeeper Quinton De Kock's choice words exchanged with former Aussie vice captain David Warner also received some media attention.
Video
Author:

South African Broadcasting Corporation

Publisher:

Publication Date:

29 March 2018

Former Australian cricket captain Steve Smith has made an emotional apology to cricket fans, on his arrival in Sydney. Smith was sent home after being ... see more »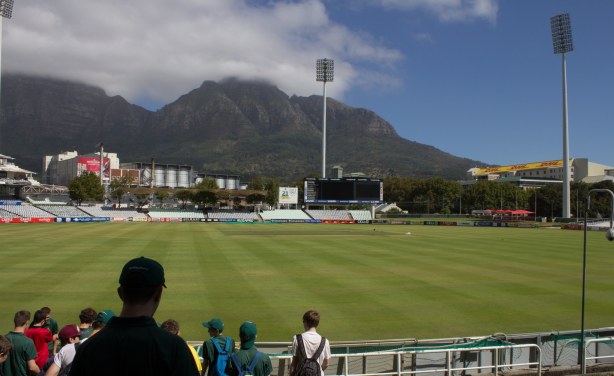 Newlands Cricket Stadium.
South Africa: CSA Congratulates Proteas On Historic Test Series Win

News24Wire, 3 April 2018

Cricket South Africa (CSA) has congratulated the Proteas on winning the Test series against Australia by a 3-1 margin after winning the final Test match by 492 runs at Wanderers on… Read more »

South Africa: Proteas to Bait Warner Into Test Ban?

News24Wire, 9 March 2018

Proteas captain Faf du Plessis says his side may look to bait David Warner into a Test match ban during the second Test in Port Elizabeth. Read more »

South Africa: Philander Unstoppable As Proteas Thrash Aussies

News24Wire, 3 April 2018

The Proteas, thanks to a superb Vernon Philander (6/21), have cruised to victory in the fourth and final Test against Australia at the Wanderers. Read more »

South Africa: Morne Morkel - the 'Nice Guy' Who Finished First

News24Wire, 3 April 2018

Morne Morkel stood up after a press conference for the final time in Proteas colours on Tuesday as journalists - South African and Australian - stood and applauded a man who has… Read more »

South Africa: Sandpapergate - Hansie Tears in the Age of Hypermasculinity

Daily Maverick, 4 April 2018

With the Australian tour now done and dusted, the fallout of the ball tampering saga continues. At the centre of the storm, David Warner is a curious paradox. By ANTOINETTE MULLER. Read more »

South Africa: Faf - Durban Loss Ignited 'Angry' Proteas Backlash

News24Wire, 3 April 2018

It will go down as one of the most intense series Test cricket has ever seen, but in the end the record books will show that the Proteas emerged as 3-1 winners over Australia. Read more »

South Africa: Proteas, Australia 'Shake Off' Bad Blood

News24Wire, 30 March 2018

The fourth and final Test between the Proteas and Australia got underway in unusual fashion at the Wanderers on Friday. Read more »

South Africa: Markram, AB Fire As New-Look Aussies Fight Back

News24Wire, 30 March 2018

Australia's miserable week looked set to continue on Friday when Aiden Markram and the Proteas dominated most of day one of the fourth and final Test in Johannesburg. Read more »

South Africa: Markram Silences Critics After 'Eye-Opening' Week

News24Wire, 30 March 2018

Aiden Markram's masterclass at the Wanderers on Friday was near-perfect, and it showed exactly why he is considered one of South African cricket's most valuable assets. Read more »

South Africa: Ball Tampering - Saga Highlights Problems With ICC's Code of Conduct

Daily Maverick, 28 March 2018

While much outrage has been directed at the players involved in the ball tampering saga that marred the third Test between South Africa and Australia, introspection of the ICC's… Read more »

South Africa: Proteas Trio Soar in ICC Test Rankings

News24Wire, 27 March 2018

Proteas fast bowler Morne Morkel and opening batsman Dean Elgar have each broken into their respective Top 10 categories in the ICC Test rankings after the third Test against… Read more »

South Africa: Electric Morkel Helps Proteas Triumph As Aussies Roll Over

News24Wire, 25 March 2018

The Proteas have smashed Australia by 322 runs in the third Test at Newlands, confirming this as one of Australian cricket's darkest moments. Read more »

South Africa: Cricket - Aussie Tampering Worse Than 'Mintgate'

News24Wire, 25 March 2018

Proteas captain Faf du Plessis believes that the Australian ball tampering that took place during the third Test at Newlands was worse than anything he did during the infamous… Read more »

South Africa: Aussie Coach - SA Fans Are 'Disgraceful'

News24Wire, 23 March 2018

Australian coach Darren Lehmann has labelled the Newlands crowd "disgraceful" after they reportedly hurled abuse the way of his players on Friday. Read more »

South Africa: Smith - Aussies Won't Look to Bait Rabada

News24Wire, 21 March 2018

Australian captain Steve Smith says that his side will not be looking to bait Kagiso Rabada into making a disciplinary mistake in the third Test against the Proteas at Newlands. Read more »

South Africa: Faf - 'Quiet' De Kock Pushed Over the Line

News24Wire, 9 March 2018

The events of this week have undoubtedly added spice to the second Test between the Proteas and Australia starting in Port Elizabeth on Friday. Read more »

South Africa: Faf - We Don't Want Quinny to Overthink Batting

News24Wire, 23 January 2018

The Proteas are flying high, 2-0 up in a Test series against the world's top ranked side, but one major concern is the batting form of Quinton de Kock . Read more »
InFocus
Cricket Australia's CEO James Sutherland says captain Steve Smith, vice-captain David Warner and opening batsman Cameron Bancroft are being sent home for their role in the ... Read more »

South Africa's Proteas are hosting long-time rivals Australia in some exciting cricket this season. The test series has not been without its controversy, the latest of which has ... Read more »

Proteas fast bowler Kagiso Rabada has been cleared to play in the remainder of the Australia Test series. He was found not guilty of the charge of making inappropriate and ... Read more »