South African Opposition Amends Its Constitution at Congress
During the Democratic Alliance federal congress, leader Mmusi Maimane said the 2019 general elections will be the party's most important. This comes as embattled Cape Town mayor Patricia de Lille says she will seek legal advice after the party approved a"recall clause" for members appointed or elected to executive posts.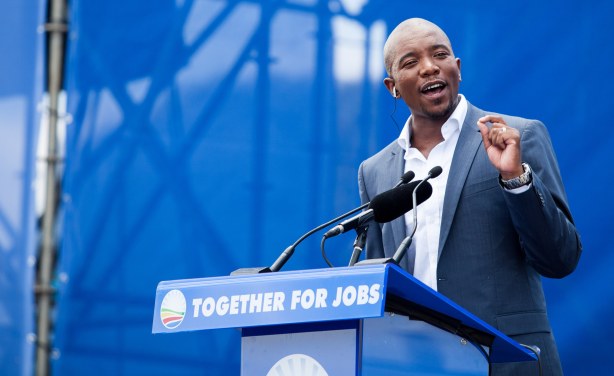 Mmusi Maimane, leader of the Democratic Alliance (file photo).
South Africa: DA Federal Congress - Trollip Wins DA Federal Chair Race but Next Hurdle - Surviving a Motion of No Confidence - Is Already in Sight

Daily Maverick, 8 April 2018

Nelson Mandela Bay Mayor Athol Trollip was re-elected federal chairperson of the DA at the party's federal congress on Sunday. His victory over Tshwane Mayor Solly Msimanga follows… Read more »

South Africa: 'Recall Clause' Allowing for Easier Removal of Office Bearers Greenlit by Opposition Party

Daily Maverick, 8 April 2018

There was vocal resistance against it, but in the end an amendment to make it easier for the Democratic Alliance to sack errant high profile office bearers - like Cape Town mayor… Read more »

South Africa: Opposition's Trollip 'Humbled' That Election Wasn't All About Race

News24Wire, 8 April 2018

Returning Democratic Alliance federal chairperson Athol Trollip feels his party has made a statement that its 2018 congress election outcome was not all about race. Read more »

South Africa: DA Federal Congress - DA Not for Racists, Says Maimane, As He Vows to Win Votes Door to Door

Daily Maverick, 8 April 2018

Democratic Alliance leader Mmusi Maimane told delegates at the closing of the party's federal congress to go out and go up against the current race-based narrative to win votes in… Read more »

South Africa: DA Congress 2018 - Maimane Closing Speech

DA, 8 April 2018

The following speech was delivered by the DA Federal Leader, Mmusi Maimane, to the party's Federal Congress delegates at the Tshwane Events Centre today. Read more »