Fighting the War Against Cervical Cancer
According to the World Health Organisation cervical cancer is the fourth most common cancer in women. The high mortality rate from cervical cancer globally could be reduced through prevention, early diagnosis, effective screening and treatment programmes.
Tanzania: 600,000 Girls for Cervical Cancer Vaccination

Cameroon Tribune, 11 April 2018

Tanzania has launched a cervical cancer vaccination drive covering more than 600,000 girls aged 14 years and below, the BBC reported on April 10, 2018. Cervical cancer is the most… Read more »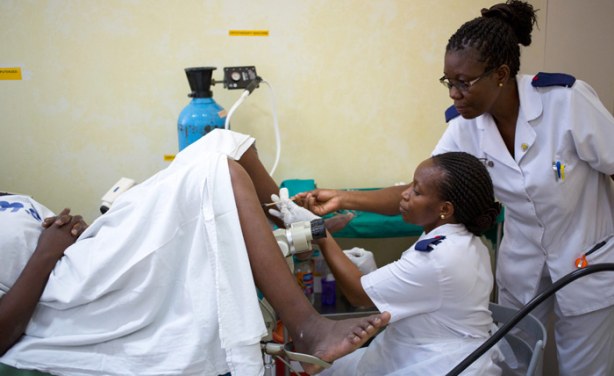 Nurse Rehema Nkomola examines a woman for cervical cancer. (file).
Tanzania: Cervical Cancer Vaccination Drive Starts in Tanzania

Citizen, 10 April 2018

Vice President, Ms Samia Suluhu, has today, April 10, launched national drive to provide cervical cancer vaccine to all women aged 14 and above. Read more »

Zimbabwe: Govt's Cervical Cancer Vaccination Targets 800,000 Girls

New Zimbabwe, 9 April 2018

The Government has launched a vaccination programme for cervical cancer meant to address high infections and related deaths among women in Zimbabwe. Read more »

North Africa: Cervical Cancer to Double Across Middle East Without Vaccines

Thomson Reuters Foundation, 21 March 2018

Deaths from cervical cancer will double in the Middle East and North Africa by 2035 unless conservative nations vaccinate young women and tackle sexual taboos, a study said on… Read more »

Malawi: First Lady Takes Cervical Cancer Awareness to Kasungu

Nyasa Times, 15 March 2018

First Lady Gertrude Mutharika on Wednesday took her cancer awareness initiative to Kasungu district in an effort to drum support for the reduction of deaths of women caused by… Read more »
InFocus
Minister for Health, Community Development, Gender, Elderly and Children Ummy Mwalimu has announced that Tanzania will provide cervical cancer vaccination starting in April 2018, ... Read more »