Ugandan Govt Signs U.S.$4 Billion Oil Refinery Agreement
The government of Uganda has signed a contract for the construction of a U.S.$4 billion oil refinery. The signing of the deal ends a more-than-five-year struggle to get a company to invest in a refinery, whose return on investment has been questioned, writes Jeff Mbanga in The Observer.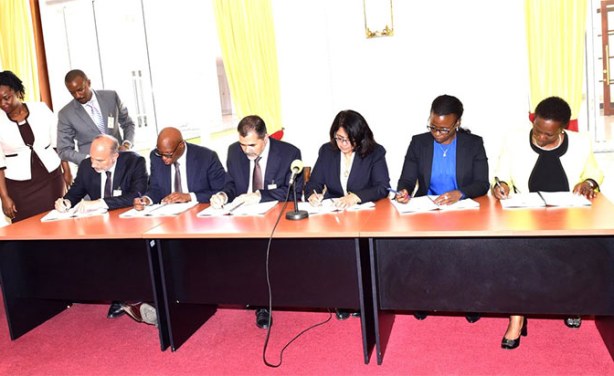 Officials signing the oil refinery agreement at State House.
Uganda: Investors to Fund Oil Refinery Venture

Monitor, 12 April 2018

The Albertine Graben Refinery Consortium (AGRC), the venture of American and Italian firms that were on Tuesday commissioned to design, finance, construct and maintain the proposed… Read more »

Uganda: Oil Companies Race to Issue Tenders

Observer, 11 April 2018

There was a race to be on the National Supplier Database by March 31 as the upstream oil companies started calling for bids ahead of what is set to be a busy year in Uganda's oil… Read more »
InFocus
President Yoweri Museveni's determination to have Uganda enter the international oil market by 2020 is getting caught up in logistics, with preparatory work on the investment ... Read more »