24 Years Later - Rwandans Recount Chilling Genocide Memories
As the country marks the 24th commemoration of the genocide of the Tutsis by Hutus - a massacre which left more than one million people dead, Rwandans are narrating their unforgettable ordeals. A 64-year old widow who lost all her six children, her husband and two brothers when soldiers invaded her home, has told the story of how she survived because her blood-soaked body made the blood thirsty militia believe that she was dead.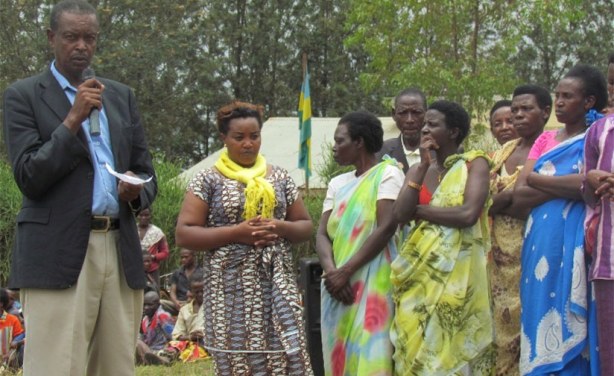 Genocide survivors and perpetrators testify about their unity in Rwankuba (file photo).
Rwanda: Survivor - My Blood-Soaked Body Made the Militia Believe I Was Dead

Nation, 11 April 2018

Tears flowed freely as a survivor of the 1994 Rwanda Genocide recounted her ordeal during the massacre which left more than one million people dead. Read more »

Rwanda: Kwibuka24 - Mining Student 'Writes' to Parents She Never Saw

New Times, 11 April 2018

"To my parents". This was the title of the letter read out by a second year student at University of Rwanda's College of Science and Technology, Yvonne Umuhoza as tears slowly… Read more »

Rwanda: Bound by Blood, 2 Families Embody Reconciliation's Challenge, Rewards

VOA, 11 April 2018

Valens Rukiriza's mud-walled house was too dim for a journalist's on-camera interview. So, he and neighbor Silas Bihizi lugged a long wooden bench out of the tidy… Read more »

Rwanda: We Had No Chance of Escape, Says Woman Who Lost Husband, All Her Six Children in Genocide

New Times, 11 April 2018

A woman who lost her husband and all six children during the 1994 Genocide against the Tutsi in Rwanda has said her family tried to escape 'imminent danger' beforehand but they… Read more »

Rwanda: Bizimana - Interahamwe Were Supplied With Tonnes of Machetes Prior to Genocide

New Times, 11 April 2018

The Executive Secretary of the National Commission for the Fight against Genocide (CNLG), Dr Jean Damascene Bizimana, yesterday delivered a lecture to over 500 police officers and… Read more »

Rwanda: 24 Years Later, Genocide Survivors Still Lack Access to Family Savings

New Times, 9 April 2018

Genocide survivors have been facing challenges accessing funds that their deceased parents or relatives left in the banks and contributed to the social security fund before they… Read more »

Rwanda: 24 Years Later - Rutunga Genocide Survivors Recount Chilling Testimonies

New Times, 10 April 2018

The 1994 Genocide against the Tutsi is believed to be the most efficient killing spree in recorded history, taking the lives of over one million people within 100 days. Read more »
InFocus
In marking the 24th commemoration of the genocide by the Hutus against theTutsis, Rwandans will from April 7, examine and discuss how the genocide was implemented in which 1 ... Read more »