I'm Bothered About Security, Economy, Not 2019 Elections - Buhari
President Muhammadu Buhari Monday has told British Prime Minister Theresa May that he is more worried about the state of Nigeria's security and the economy than the 2019 election, which he intends to re-contest. The prime minister praised Buhari for his efforts in the global fight against terrorism and against corruption in Nigeria.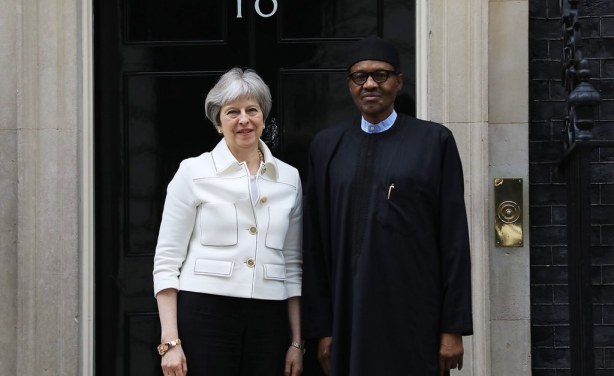 President Muhammadu Buhari and UK Prime Minister, Theresa May.
Nigeria: Buhari, British Prime Minister Meet in London

Daily Trust, 16 April 2018

President Muhammadu Buhari on Monday met with the British Prime Minister, Theresa May, in the United Kingdom. Read more »

Nigeria: Buhari Tells PM May Politicians Preoccupied With 2019 Elections

Daily Trust, 16 April 2018

President Muhammadu Buhari says Nigerian politicians are preoccupied with 2019 elections, but he is bothered more about the security and the economy. Read more »

Nigeria: Buhari - I'm More Concerned About Security, the Economy Than 2019 Polls

This Day, 17 April 2018

President Muhammadu Buhari Monday told the British Prime Minister Theresa May at her No. 10 Downing Street office in London that he was more worried about the state of Nigeria's… Read more »

Nigeria: My Reason for Seeing Theresa May - Buhari

Vanguard, 16 April 2018

President Muhammadu Buhari on Monday in London held bilateral talks with British Prime Minister, Theresa May, where he demanded for more influx of British companies and investments… Read more »

Nigeria: May Receives Buhari, Commends Him On Global Fight Against Terrorism

This Day, 16 April 2018

British Prime Minister Theresa May is currently holding a bilateral talk with President Muhammadu Buhari at her office on 10, Downing Street, London. Read more »

Nigeria: Security, Economy On My Mind, Not 2019 - Buhari

Leadership, 17 April 2018

The three-pronged focus of the current administration resonated in yesterday's meeting between President Muhammadu Buhari and British prime minister, Theresa May, at 10 Downing… Read more »