Kenyans in London Show No Love For Kenyatta
After giving his much-anticipated speech at Chatham House, a venue that is associated with the core values of democracy and freedom, President Uhuru Kenyatta came out to rowdy, placard-wielding protesters chanting "respect human rights" and "respect rule of law". He is accused of human rights abuses, ignoring the rule of law and mismanaging the Kenyan economy. Kenyatta is attending Commonwealth Heads of Govt Meeting that brings together leaders from the 53 countries that make up the Commonwealth of Nations.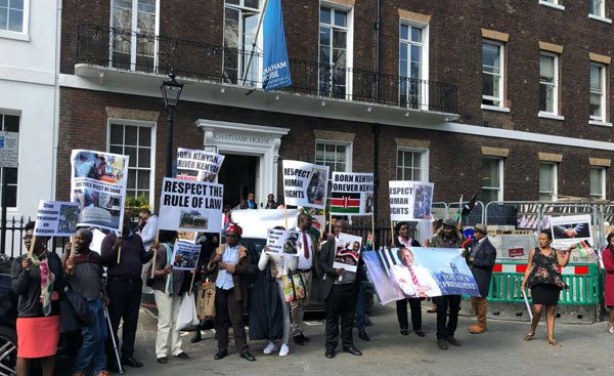 A group of Kenyans protest against President Kenyatta's rule outside Chatham House in London.
Kenya: President Kenyatta Rings in Trade at London Bourse, Promotes Investment in Kenya

Kenya Presidency, 17 April 2018

President Uhuru Kenyatta kicked off the program for his five-day visit to the UK by presiding over the opening ceremony of the London Stock Exchange. Read more »

Kenya: Endless Politics Bad for Growth, Kenyatta Says During Chatham Address

Capital FM, 18 April 2018

President Uhuru Kenyatta has blamed divisive politics for sluggish growth within the African continent. Read more »

Kenya: Kenyatta Calls for Partnership in War on Terror During UK Tour

Capital FM, 18 April 2018

President Uhuru Kenyatta has urged security agencies across the world to partner closely, saying terrorism can only be defeated through an all-inclusive approach. Read more »

Kenya: President Kenyatta to Visit London Stock Exchange and Meet Investors

Capital FM, 17 April 2018

President Uhuru Kenyatta will on Tuesday visit the London Stock exchange for a meeting with investors, using the event to share areas of investment opportunity in terms of his Big… Read more »

Kenya: Kenyatta Warns Donors Against Using Aid to Destabilise States

Nation, 17 April 2018

President Uhuru Kenyatta on Tuesday cautioned development partners against using foreign aid to support policies that could destabilise nascent democracies. Read more »

Kenya: Kenyatta Rings Bell to Open Share Trading in London

Nairobi News, 17 April 2018

President Uhuru Kenyatta on Tuesday rang the bell to mark the beginning of trading at the London Stock Exchange as his five-day official tour of the United Kingdom commenced in… Read more »

Kenya: President Kenyatta Wheels Down in London

Capital FM, 16 April 2018

President Uhuru Kenyatta this evening arrived in the United Kingdom for a five-day visit during which he will attend the Commonwealth Heads of Government Meeting (CHOGM) and hold… Read more »
InFocus
President Uhuru Kenyatta will also meet with Kenyans living in the UK and deliver an address at Chatham House, where he is expected to speak on Kenya's inclusive economic growth ... Read more »