Protesters Held After 'Hide and Seek' With South African Police
"The protesters are playing a game of hide and seek with the police. They get to one area and then, when the police arrive, they move to another area," said Police spokesperson Colonel Adele Myburgh following violent protests in Mahikeng where demonstrators called for North West Premier Supra Mahumapelo's resignation.
Video
Publisher:

Publication Date:

19 April 2018

North West Premier, Supra Mahumapelo, has called for calm and stability in Mahikeng after calls for him to quit again turned violent. There were ... see more »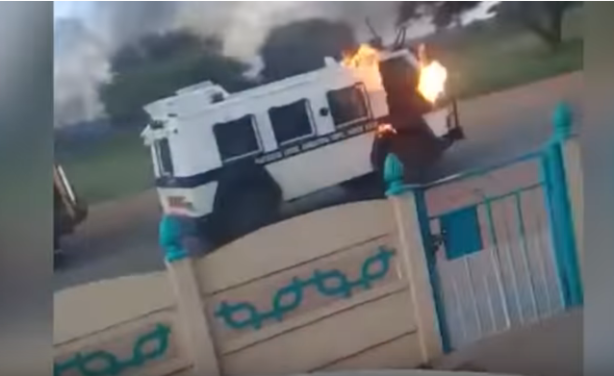 Video screenshot of a police van set on fire during violent protests in Mahikeng.
South Africa: Supra Has Lost Control of the North West

DA, 18 April 2018

The Democratic Alliance (DA) in the North West again calls on Premier Supra Mahumapelo to resign as he has completely lost the trust of the people, and control of the Province. In… Read more »
InFocus
Supra Mahumapelo's tenure as premier of the North West has come under fire. Protesters calling for his resignation blocked roads and set tyres alight in Mahikeng. Mahumapelo also ... Read more »