Fans Fired Up for Singer Mapfumo's Homecoming Show in Zimbabwe
The wait is almost over as Thomas Mapfumo, popularly known as Mukanya, is set to perform at Glamis Arena after 14 years in exile in the United States. His set with music guru Oliver Mtukudzi will make the event a bigger affair. The hype has been immense and it is now time to see what the musician has to offer.
Zimbabwe: Mukanya Homecoming Bira On Tomorrow

The Herald, 27 April 2018

The long wait will be over tomorrow when Thomas Mapfumo's homecoming bira takes place at Glamis Arena featuring other local musicians like Oliver Mtukudzi, Winky D, Suluman… Read more »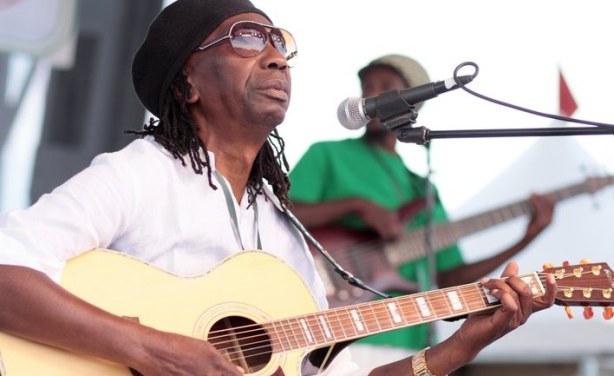 Thomas Mapfumo.
Zimbabwe: How Mukanya Formed Blacks Unlimited

The Herald, 26 April 2018

Thomas "Mukanya" Mapfumo's journey in music has been long. It has had its twists and turns. He has encountered happy and sad moments in a career of more than four decades. Now a… Read more »

Zimbabwe: Mapfumo's Team for Homecoming Bira

The Herald, 26 April 2018

Mukanya has worked with various instrumentalists and vocalists. Many will perform with him at the homecoming bira at Glamis Arena on Saturday. Some came with him from the US,… Read more »

Zimbabwe: Stage Set for Sekurutau, Mukanya Collabo

263Chat, 25 April 2018

Renowned sculptor and African roots music maestro, Bryn 'Sekurutau' Mteki has won a rare opportunity to collaborate with Chimurenga music legend, Dr Thomas 'Mukanya' Mapfumo on his… Read more »
InFocus
The Chimurenga music legend has bemoaned music piracy, which saw his latest unreleased track Chauya Chauya sold on the streets, while also going viral. Read more »

Thomas Mapfumo, popularly known as Mukanya, landed in the country to a heroes welcome after 14 years in exile in the United States. He fled the Robert Mugabe regime that sought to ... Read more »