Workers Threaten to Vote Against Nigerian Govt Over Minimum Wage
Labour unions have warned that workers will use their electoral power come 2019 against any government that refuses to pay the new minimum wage currently being negotiated. Unions have proposed U.S.$185 as a new minimum wage, citing the rising cost of living in the country.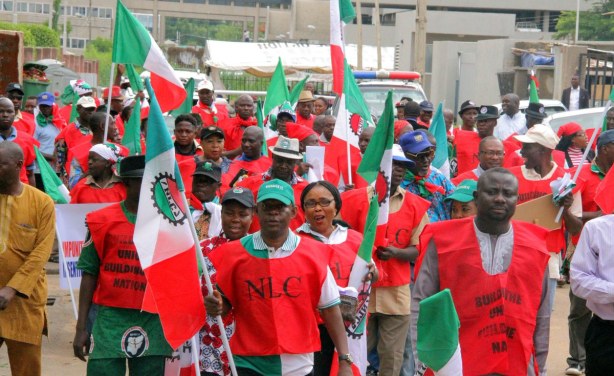 Nigeria Labour Congress.
Nigeria: Govt Targets September for New Minimum Wage Takeoff

Guardian, 2 May 2018

The Federal Government will expedite action to ensure that a new minimum wage is ready by the second quarter of the year, Vice President Yemi Osinbajo has promised.At the 2018 May… Read more »

Nigeria: Nigerian Workers Threaten to Trade Votes for Minimum Wage in 2019

Premium Times, 1 May 2018

Nigerian workers on May Day threatened to use their electoral power come 2019 against any government that refuses to pay the new minimum wage currently being negotiated in the… Read more »

Nigeria: History of Minimum Wage Controversy in Nigeria

Guardian, 2 May 2018

Befor the coming of Hassan Sunmonu as first president of the Nigeria Labour Congress in 1978, there was no history of a structured minimum wage for workers. It must be said that… Read more »

Nigeria: Govt Can Pay N96,000 Minimum Wage - Congress

Vanguard, 2 May 2018

The Nigeria Labour Congress (NLC) and the United Labour Congress (ULC) yesterday called on federal and state government to treat workers with greater respect, saying that workers… Read more »

Nigeria: Worker's Day - Clamour for Improved Standard of Living Not Minimum Wage, Masari Tells Worker

Vanguard, 2 May 2018

Governor Aminu Bello Masari of Katsina State on Tuesday told Nigerian workers to demand from government minimum standard of living instead of the call for minimum wage. Read more »

Nigeria: May Day - Govt Not Ignoring Workers' Demands - VP Osinbajo

Premium Times, 1 May 2018

The Vice President, Yemi Osinbajo, has assured Nigerian workers that the Buhari-led administration is not ignoring their demands of better working conditions. Read more »

Nigeria: Workers Day - the Worst Is Over for Nigeria - Buhari

Vanguard, 1 May 2018

President Muhammadu Buhari on Tuesday gave the assurance that the economic and social problems plaguing the country had had their turn declaring that the worst was over for the… Read more »

Nigeria: May Day - We'll No Longer Accept Politicians' Excuses - Labour Leaders

Premium Times, 1 May 2018

The harsh working environment the Nigerian worker has to endure due to unfavourable government policies and neglect must come to an end, Labour leaders said on Monday. Read more »

Nigeria: May Day - Ondo, Ekiti Workers Chide Governors Over Unpaid Salaries

Premium Times, 1 May 2018

Workers in Ondo and Ekiti states on Tuesday charged the state governors, Rotimi Akeredolu and Ayo Fayose, respectively, to pay their salary arrears as they are currently suffering… Read more »

Nigeria: May Day Lie - With Buhari Presidency, It's a Case of New Day, New Lie - Reno

Vanguard, 1 May 2018

My attention has been drawn to a statement by Presidential spokesman, Garba Shehu, on behalf of the Presidency on May Day, being workers day, alleging that former President… Read more »
InFocus
President Muhammadu Buhari has approved the appointment of a 30-member tripartite committee to negotiate the new minimum wage. Read more »

For two years, workers in Nigeria have been battling with the government for an upward review of the national minimum wage from the current U.S.$50. Labour unions had in a joint ... Read more »