Will Kenyatta's #StateoftheNation Address Usher in a New Kenya?
Although he did not explain what the pact with opposition leader Raila Odinga means during his State of the Nation Address, President Uhuru Kenyatta has spoken highly of Odinga and described their unity deal as an "exemplar of statesmanship". His unity and reconciliation message echoed throughout the speech, which also urged restrained politics. Is it too little, too late?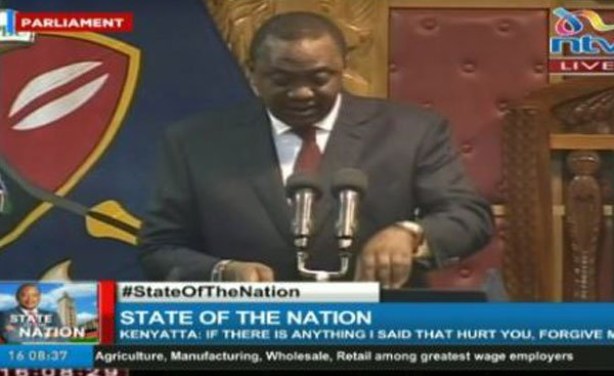 President Uhuru Kenyatta delivers his fifth State of the Nation address.
Kenya: Kenyatta Apologises For Hurtful Utterances Made in Heat of 2017 Polls

Capital FM, 2 May 2018

President Uhuru Kenyatta on Wednesday apologised for anything "hurtful or damaging" he might have said in the heat of last year's elections. Read more »

Kenya: Kenya Will Continue Supporting Regional Stability

Kenya Presidency, 2 May 2018

President Uhuru Kenyatta today said Kenya will continue with its robust efforts to promote peace and stability in neighbouring countries. Read more »

Kenya: Babu Owino Jumps at Opportunity to Make Amends With President Kenyatta

Capital FM, 2 May 2018

Embakasi East MP Babu Owino says he reached out for a handshake with President Uhuru Kenyatta to signify that they had buried the hatchet. Read more »

Kenya: President Kenyatta Calls for New Approach to Politics for Kenya's Prosperity

Kenya Presidency, 2 May 2018

President Uhuru Kenyatta today called on Kenyans to change their basic approach to political competition to ensure the continued stability and prosperity of Kenya. Read more »

Kenya: President Kenyatta Presents Scorecard, Rallies Support for Big Four Agenda

Kenya Presidency, 2 May 2018

President Uhuru Kenyatta today presented to Parliament a comprehensive scorecard of his Government's achievements on areas of national values, security and Kenya's obligations to… Read more »

Kenya: The Full Transcript of Uhuru Kenyatta's State of the Nation Address

Nation, 2 May 2018

Hon. Speakers, Read more »

Kenya: President Kenyatta Delivers State of the Nation Address

Nation, 2 May 2018

President Uhuru Kenyatta is currently making his annual State of the Nation address to Parliament, the first since his re-election in two rounds of elections last year. Read more »

Kenya: What Will Kenyatta Deliver for His 5th State of the Nation?

allAfrica, 2 May 2018

President Uhuru Kenyatta will be delivering his first State of the Nation Address after his re-election in the highly contested and controversial 2017 general election that ended… Read more »
InFocus
President Uhuru Kenyatta has said this is in recognition of "good work by the workers and cognisant of the rate of inflation of 4.8 percent recorded this year". Read more »

Opposition leader Raila Odinga has described his "historic handshake" with President Uhuru Kenyatta as the start of the end of the "abrasive, almost violent politics of the ... Read more »