Uganda's Museveni Urges South Sudan Factions to Stop Violence
President Yoweri Museveni has met South Sudan's President Salva Kiir after holding talks with members of the opposition. Museveni addressed the Fourth Sudanese People's Liberation Movement National Liberation Council Meeting where he advised warring factions to drop violence as a means of conflict resolution.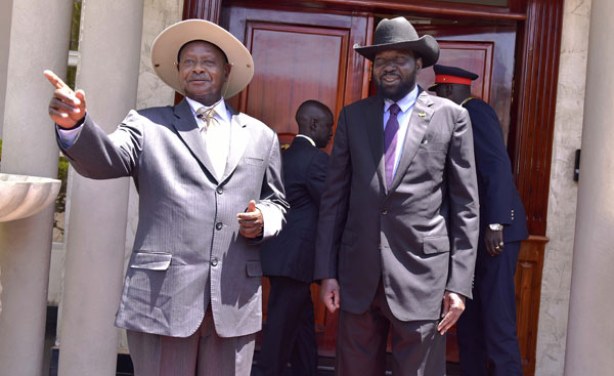 Ugandan President Yoweri Museveni with his South Sudan counterpart Salva Kiir during the 4th National Liberation Council Meeting of the SPLM in Juba.
East Africa: Museveni in Juba After Meeting Machar Team

Monitor, 4 May 2018

President Museveni yesterday flew to Juba to meet President Salva Kiir after holding talks with the visiting members of the opposition on Wednesday night. Read more »

East Africa: Machar Delegation Meets Museveni

Monitor, 3 May 2018

Members of the Sudanese People's Liberation Movement -In Oppostion (SPLM-IO) last night met President Museveni who was expected to fly to Juba today to meet President Salva Kiir. Read more »