Codeine Syrup Ban Not Enough - Let's Examine Addiction's Roots
Apparently, most young boys and women cause a scene at the pharmacy when they're asked for a doctor's prescription - they get nasty and violent, to the point of trying to fight the attendant. The addicts cut across social lines, tribes and religions, including the elites and the powerful in the society, writes columnist Roses Moses for The Vanguard.
Nigeria: After Ban, Codeine Syrup Price Skyrockets

Daily Trust, 6 May 2018

Despite the ban on cough syrups containing codeine, its sellers are still in business. Daily Trust on Sunday has learnt. Read more »

Nigeria: Cough Syrup Addiction - What Are Youth Trying to Escape?

Vanguard, 5 May 2018

The ban on production of syrups containing codeine in Nigeria wasn't exactly the topic I intended to write on this week. President Muhammadu Buhari's recent visit to the United… Read more »

Nigeria: Pharmaceutical Firms Panic Over Codeine Distribution Shocker

Daily Trust, 5 May 2018

Ilorin, the Kwara State capital, is said to be among cities in Nigeria with highest number of pharmaceutical companies producing a wide range of drugs. But two of the leading… Read more »

Nigeria: Lagos Government to Implement Ban On Codeine Use

Guardian, 5 May 2018

Lagos State Government, yesterday, said comprehensive plans are currently being firmed up to generally address prevalence of drug abuse under the mental health policy in the State,… Read more »

Nigeria: Codeine in Bottles, Death in Their Veins

Daily Trust, 5 May 2018

It is 3.30pm. Two ghetto communities of Kaduna city are calm: Abakpa and Unguwar Shanu. One street, a rail line running across, separates both areas. Mud homes face the line. On… Read more »

Nigeria: Codeine Ban - Northern Governor's Wives Forum Hail FG

Leadership, 5 May 2018

The Northern Governor's Wives Forum has applauded the recent ban on the importation and production of codeine by the Federal Ministry of Health, saying that it's a major… Read more »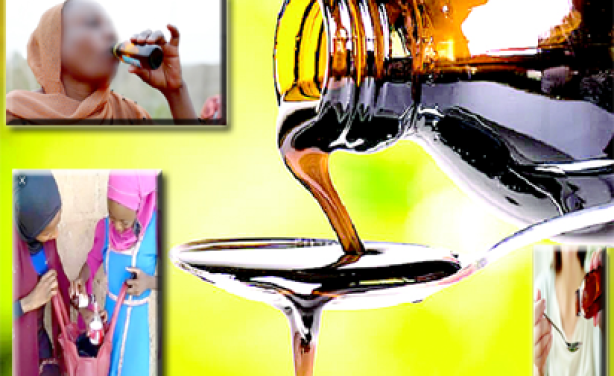 Reports say Nigerian youths now use codeine cough syrup, just like cocaine, heroin or any other hard drug, to get "high".
InFocus
The National Agency for Food and Drug Administration and Control has raided four pharmaceutical companies after they were exposed for selling codeine cough syrup on the black ... Read more »

The health ministry announced the ban after an investigation showed the syrup is being sold on the black market and being used by young Nigerians to get high. Read more »