Barcelona FC Visit to Cost South African Tycoon U.S.$7.9 Million
The cost to fly in FC Barcelona to play Mamelodi Sundowns will cost Patrice Motsepe, billionaire owner of the South African league champions, nearly U.S.$8 million. The international friendly between the two clubs will commemorate the 100th birthday of anti-apartheid hero, the late Nelson Mandela. With the World Cup looming, there is some doubt on whether drawcards Lionel Messi and Luis Suarez will be in the line-up.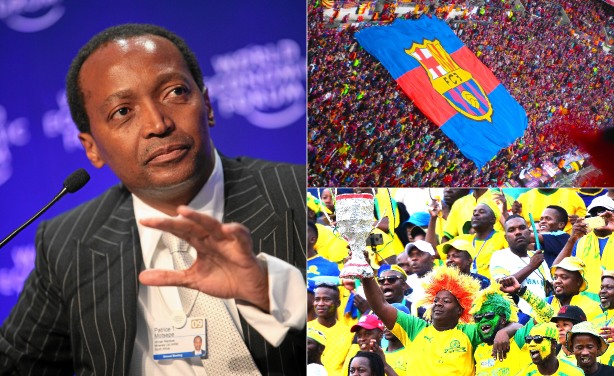 Left: South African billionaire Patrice Motsepe. Top-right: FC Barcelona supporters. Bottom-right: Mamelodi Sundowns FC supporters.
Video
Publisher:

SABC

Publication Date:

4 May 2018

Mamelodi Sundowns F.C. has something planned that will rock South African football to it's core, and for I've got Sundowns club president Patrice ... see more »