Was Kampala Mosque a Terrorist Hide-Out or Security Front?
There are many theories about a police and army raid on a Kampala mosque on April 27, writes The Observer's Baker Batte Lule. A day after the raid, in which two people died, officials said the operation followed intelligence that a suspect in the Susan Magara murder had sought sanctuary in the mosque. The officials said more than 100 hostages, including women and children, were found in the mosque.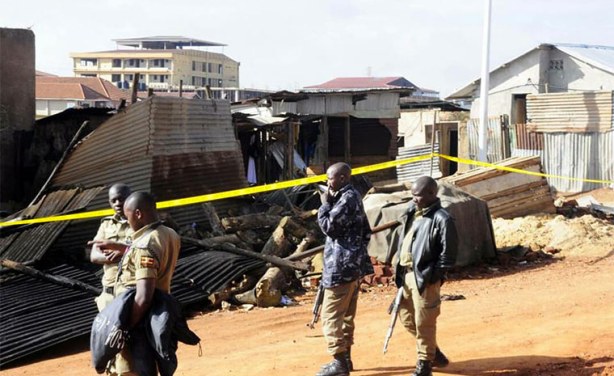 Police keep guard near the raided Usafi mosque.
Uganda: 7 Girls Rescued During Usafi Mosque Raid Confirmed Pregnant

Monitor, 7 May 2018

Police have confirmed that seven out of 63 girls rescued from kidnap during the Usafi Mosque raid are pregnant. Read more »

Uganda: More Than 30 Arrested in Usafi Mosque Raid

Independent (Kampala), 5 May 2018

Usafi mosque in Kisenyi on April 28, a total of 36 people suspected of involving in acts of terrorism and radicalism were arrested. Read more »

Uganda: Opposition Tasks Govt On Murder of Muslim Clerics Report

Monitor, 4 May 2018

Opposition Justice Forum Party (JEEMA) has asked government to produce a report on the murder and arrests of Muslim clerics across the county. Read more »

Uganda: Two Suspected Terrorists Shot Dead in Kampala

Monitor, 28 April 2018

The Uganda Police Force in a joint operation with sister security agencies has early this morning conducted an operation at Usafi mosque in Kisenyi and other locations in and… Read more »

Uganda: Police Raid - Two Dead, 112 Rescued and 36 Arrested At Usafi

Independent (Kampala), 28 April 2018

The Uganda Police Force in a joint operation with sister security agencies Friday night and Saturday morning shot dead two suspects and rescued 112 in operations conducted at Usafi… Read more »

Uganda: How Police Under Gen Kayihura Ignored Warning On Usafi Mosque

Monitor, 30 April 2018

A day after a security raid on Usafi Mosque in Kampala, details are starting to emerge of how children were being held captive and radicalised at the place of worship. Read more »

Uganda: Inside Community of Kampala 'Terrorists'

Monitor, 29 April 2018

The secluded community in Mengo, Kampala, which was stormed by a joint force of army and police on Friday night had been a source of suspicion from neighbours for years, Sunday… Read more »
InFocus
Security Minister Henry Tumukunde apologised to mourners at Susan Magara's funeral for the failure by authorities to rescue her. Magara was kidnapped in Kampala on February 7 ... Read more »