Did Zimbabwe Footballer Rusike Win Fifa Case?
Zimbabwean international forward Matthew Rusike has refuted the story in The Herald alleging that the FIFA Dispute Resolution Chamber ruled in his favour and that he would be paid €142 500 (U.S.$170 000) by Tunisian giants Club Africain in outstanding salaries and bonuses. "Fake news. The herald must fact check before they publish," tweeted the footballer.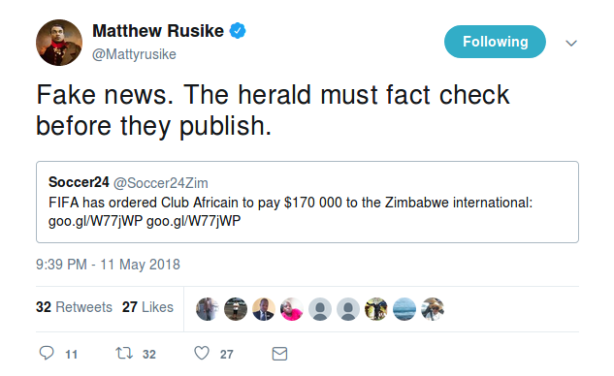 Matthew Rusike has refuted The Herald story in a tweet.
Zimbabwe: Rusike Torches Twitter Storm

The Herald, 14 May 2018

A Twitter storm sparked by a tweet by Zimbabwe international forward Matthew Rusike on Saturday ended the player and employees of Zimbabwe Newspapers smoking the peace pipe. Read more »