Hope Rises for 2018 Budget as Nigerian Senate Receives Report
The Senate has received the report of the Committee on Appropriation on the 2018 budget estimates, six months after it was presented by President Muhammadu Buhari. Controversy has trailed the delay in the passage of the bill, with the National Assembly accusing ministries, departments and agencies of failing to defend their budget proposals.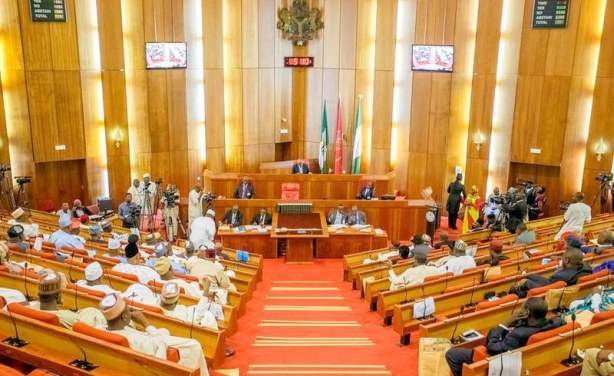 The Nigerian Senate.
Nigeria: Senate Panel Raises 2018 Budget

Guardian, 16 May 2018

The Senate Committee on Appropriation has increased the 2018 budget from N8.612 trillion to N9.120 trillion. Read more »

Nigeria: NASS Lays N9.12trn for 2018

Vanguard, 16 May 2018

The National Assembly has jerked up the 2018 appropriation bill by a whopping sum of N508.33 billion, following its approval of the sum of N9.12 trillion for the 2018 fiscal year. Read more »

Nigeria: Senate Is Set to Receive the Report On the 2018 Budget Proposal

This Day, 15 May 2018

This is coming six months after the budget was presented by President Muhammadu Buhari in November 2017. Read more »

Nigeria: N'Assembly Raises 2018 Budget By N500bn, May Be Passed Thursday

This Day, 16 May 2018

Six months after it was laid before a joint session of the National Assembly, the Senate and House of Representatives Committees on Appropriation Tuesday laid the report of the… Read more »

Nigeria: Reps to Pass Nigeria's 2018 Budget Wednesday - Deputy Speaker

Premium Times, 15 May 2018

The House of Representatives on Tuesday said the 2018 Appropriation Bill of N9.12 trillion would be passed on Wednesday. Read more »

Nigeria: Delay in Budget Passage Will Have Implications - Adeosun

Leadership, 12 May 2018

The long time it is taking the National Assembly to finish work on and pass this year's national budget will have economic implications for the Nigerian economy. Read more »

Nigeria: National Assembly Increases 2018 Budget By Over N500bn

This Day, 15 May 2018

Almost six months after it was laid before a joint session of the National Assembly, both the Senate and House of Representatives Committees on Appropriations Tuesday laid the… Read more »

Nigeria: National Assembly Receives 2018 Budget Report

Premium Times, 15 May 2018

The National Assembly on Tuesday received the report of its appropriation committees on the 2018 budget. Read more »
InFocus
Lawmakers have shifted the passage of the 2018 national budget to May, depending on whether it is ratified by President Muhammadu Buhari. The term of the 2017 budget, which ought ... Read more »

The National Assembly has announced that the 2018 budget will be presented before both chambers on April 19 and will be passed on April 24. Read more »

Senate spokesperson, Aliyu Sabi Abdullahi has said that no date has been set for the release of the 2018 Budget but that officials are working hard to ensure that the Budget would ... Read more »