Nigerian Senate Calls For End to Strike as Ebola Threat Looms
Following the World Health Organisation's declaration that Nigeria and other African countries are at risk of an Ebola virus outbreak, the Senate has pleaded with the Joint Health Sector Union to call off its three-week strike to enable Nigeria to be on the alert. The union embarked on a nationwide strike to demand salary adjustments, promotion arrears, and improved working conditions for its members.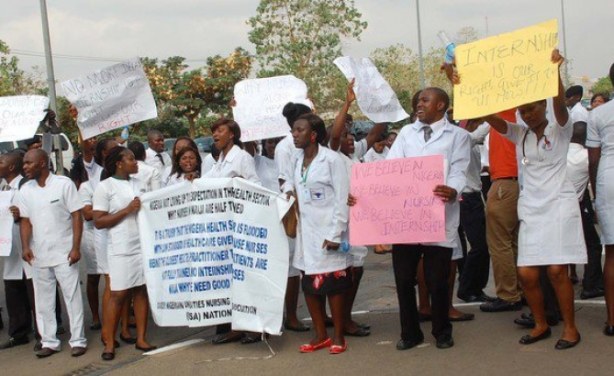 A protest by Nigerian health workers.
Nigeria: Senate Urges Quick Measures to Prevent Ebola Outbreak in Nigeria

Premium Times, 15 May 2018

The Senate on Tuesday adopted various resolutions to prevent an outbreak of ebola virus in Nigeria. Read more »

Nigeria: Senate Begs JOHESU to End Strike Over Fresh Ebola Outbreak

Guardian, 16 May 2018

The Senate yesterday pleaded with the Joint Health Sector Union (JOHESU) to call off the strike it embarked upon over three weeks ago, which has affected the health sector across… Read more »

Nigeria: Islamic Scholar Say It's Spiritually Wrong for Johesu to Expect Salaries for Striking Periods

Vanguard, 16 May 2018

A Professor of Islamic studies and a Former Vice Chancellor of Al-Hikmah University, Prof. Abdulrasaq Abdulbakri, has said it is against the tenets of Islam to receive salary for… Read more »

Nigeria: Govt Warns Health Workers Against Strike, Harassment of Doctors

This Day, 16 May 2018

The federal government on Tuesday warned health workers across the country under the auspices of the Joint Health Sector Union (JOHESU) to desist from taking laws into their hands… Read more »

Nigeria: Pregnant Women Suffer As Nigeria's Health Workers Strike Worsens

Premium Times, 15 May 2018

Uneasy was the contenance on Ebele Nwaka as she struggled to climb down one of the stairs of Asokoro District Hospital. Read more »

Nigeria: Nigerian Youths Ask Buhari to End Health Workers' Strike

Daily Trust, 15 May 2018

President Muhammadu Buhari has been called to put an end to the incessant strike by the health workers. Read more »

Nigeria: Health Strike - Buhari's Refusal to Act Is Height of Insensitivity

Leadership, 15 May 2018

The Peoples Democratic Party (PDP) has said the refusal by President Muhammadu Buhari to address the devastating strike action by health workers across the country, is a clear… Read more »

Nigeria: Health Workers Strike - It's Wrong to Receive Salary During Strike, Clerics Tell Johesu

Premium Times, 15 May 2018

A professor of Islamic Studies, Abdulrasaq Abubakre, says it is against the tenets of Islam to receive salary for the period one has not worked. Read more »

Nigeria: Yobe Governor Approves 100% Payment of New Salary Structure for Health Workers

Premium Times, 16 May 2018

The Governor of Yobe State, Ibrahim Gaidam, on Tuesday, approved the full implementation of the salary structure for all nurses, pharmacist and related medical personnel under the… Read more »
InFocus
The nationwide strike by health workers may suffer a setback, following a decision by doctors to provide patients with medical care. The Joint Health Sector Unions embarked on a ... Read more »

The government says that the indefinite strike action embarked upon by health workers under the auspices of the Joint Health Sector Unions is unjustified, and has threatened to ... Read more »