Nigerian Senate Passes 2018 Budget - At Last
The Senate has passed a U.S.$29.8 billion budget for 2018, six months after its first presentation. The budget still needs to be returned to President Muhammadu Buhari to be signed into law.
Nigeria: Budget Passage By National Assembly Relief for Nigeria - FRC

This Day, 17 May 2018

The acting Chairman, Fiscal Responsibility Commission (FRC), Mr. Victor Muruako, has said that the passage of the 2018 Appropriation Bill by the National Assembly is a relief to… Read more »

Nigeria: Senate Explains N57.15b Vote for Basic Healthcare in 2018 Budget

Guardian, 18 May 2018

The Senate has explained why it prevailed on the executive arm of government to implement the provision of the National Health Act, 2014, which stipulates that a minimum of one per… Read more »

Nigeria: Why We Jerked Up 2018 Budget to N9.12tr - NASS

Vanguard, 17 May 2018

National Assembly, yesterday, passed the 2018 Appropriation Bill of N9.12 trillion for the 2018 fiscal year, explaining while it increased the budget estimate by N508 billion from… Read more »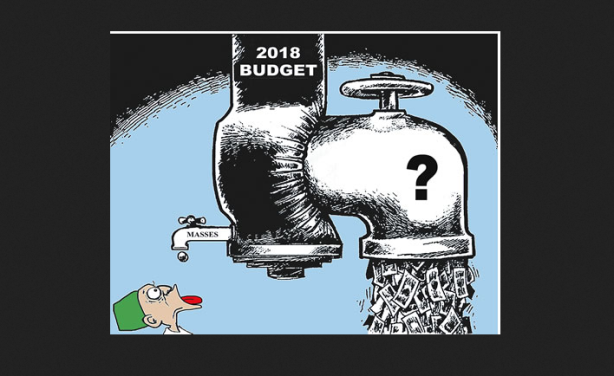 2018 Budget.
Nigeria: NASS Lays N9.12trn for 2018

Vanguard, 16 May 2018

The National Assembly has jerked up the 2018 appropriation bill by a whopping sum of N508.33 billion, following its approval of the sum of N9.12 trillion for the 2018 fiscal year. Read more »

Nigeria: 2018 Budget - 2.3M BPD Oil Benchmark Too Optimistic - Group

Premium Times, 17 May 2018

BudgIT, a civil society organisation has expressed disapproval of the recently passed 2018 budget as being overly optimistic, especially the 2.3 million barrels per day (bpd) oil… Read more »

Nigeria: Senate Passes Cama Bill to Stimulate Business Growth

This Day, 16 May 2018

The Senate yesterday passed the bill that reenacted the Companies and Allied Matters Act (CAMA), which is said to be the biggest business reform bill in Nigeria in over 28 years. Read more »

Nigeria: Power, Works, Housing Get Lion Share in 2018 Budget

Guardian, 17 May 2018

The two chambers of the National Assembly, yesterday, passed the 2018 budget totaling N9.120, 334,988,225.The budget is over N500 billion higher than the N8.612 trillion proposed… Read more »

Nigeria: 2018 Budget to Face Further Delay

Daily Trust, 17 May 2018

The 2018 budget is set to face further delay despite its passage by the National Assembly yesterday. Read more »

Nigeria: Senate, House Pass 2018 Budget, Raise Spending

Premium Times, 16 May 2018

The Senate and the House of Representatives have passed the 2018 budget, raising it by N500 billion. Read more »

Nigeria: Senate Passes 2018 Budget of N9.12 Trillion

Vanguard, 16 May 2018

The Senate has passed the 2018 Budget of N9.21 Trillion following the consideration and adoption of the Budget report laid on the floor of the upper legislative chamber on Tuesday. Read more »

Nigeria: Fuel Subsidy Must Be Included in 2018 Supplementary Budget, Senate Tells Buhari

Premium Times, 16 May 2018

The Executive must provide for fuel subsidy in the supplementary 2018 budget, Senate President, Bukola Saraki, said on Wednesday. Read more »

Nigeria: Senate Passes 2018 N9.1trn Budget

This Day, 16 May 2018

Six months after it was laid before a joint session of the National Assembly, the Senate finally passed the 2018 N9.1 trillion appropriation bill, following an increase of N500… Read more »
InFocus
The Senate has received the report of the Committee on Appropriation on the 2018 budget estimates, six months after it was presented by President Muhammadu Buhari. Controversy has ... Read more »