Zimbabwe Applies to Rejoin Commonwealth, Invites Poll Observers
President Emmerson Mnangagwa has officially applied for Zimbabwe to rejoin the Commonwealth and has invited observers to the general elections set for July. The southern African nation formally quit the Commonwealth in 2003 after then leader Robert Mugabe - who ruled since the country's independence in 1980 - came in for criticism over disputed elections and land seizures from white farmers.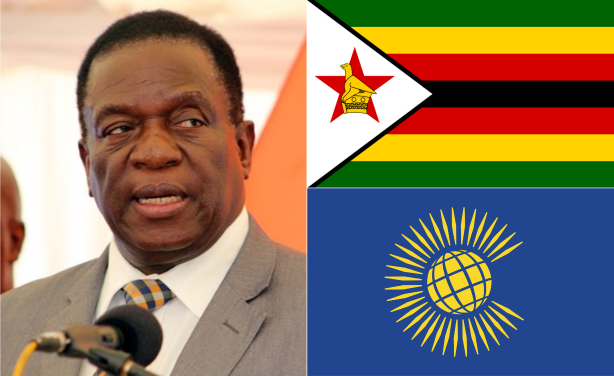 Left: Zimbabwean President Emmerson Mnangagwa. Top-right: Flag of Zimbabwe. Bottom-right: Flag of the Commonwealth of Nations.
Zimbabwe: Govt Applies to Rejoin the British Commonwealth

Deutsche Welle, 21 May 2018

Zimbabwe has applied to re-join the British Commonwealth and invited observers to attend its general elections. The move is a major step towards re-engaging with the international… Read more »

Zimbabwe: Govt Renews Commonwealth Interest

The Herald, 22 May 2018

Government has written a letter to Commonwealth Secretary-General Patricia Scotland expressing its interest in principle to rejoin the Commonwealth and that it will do so at the… Read more »

Zimbabwe: UK Backs Return to the Commonwealth

The Herald, 1 May 2018

The UK will support Zimbabwe rejoining the Commonwealth, it has been reported. The invitation will almost certainly be accepted, as President Mnangagwa has been on a global charm… Read more »

Zimbabwe: Commonwealth Warms Up to Local Academics

The Herald, 16 March 2018

Commonwealth Academies of Science has accepted Zimbabwe's contribution to a consensus statement on climate change that is expected to be submitted for presentation to the… Read more »
InFocus
President Emmerson Mnangagwa's administration is making headway in returning Zimbabwe to the global arena. The president is expected to receive a special envoy from the British ... Read more »

The bond between the people of Zimbabwe and the Commonwealth is close - and a cautious British Foreign Office position to wait until after "free and fair elections in July" is ... Read more »