Ugandan Police Seek to End 48-Hour Detention Rule
The Uganda Police Force is facing stiff resistance over a proposal that would allow officers to hold suspects beyond the maximum of two days before they are granted bail or appear in court. While police say the change will only affect terrorism suspects, opponents say those accused of petty crimes will be held longer too.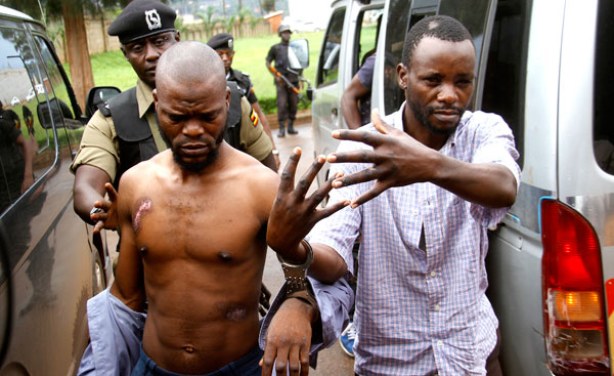 Suspects in the murder of former AIGP Felix Kaweesi display injuries that were allegedly inflicted on them by police officers at Nalufenya Detention Centre (file photo).
Uganda: Govt Ordered to Produce Missing Four Kaweesi Suspects

Independent (Kampala), 23 November 2017

Kampala High Court's Civil Division Head, Justice Stephen Musota Wednesday ordered Government to produce four missing Kaweesi suspects who were recently arrested by security… Read more »

Africa: Uganda's Slow Slide Into Crisis

ICG, 21 November 2017

Growing discontent threatens the dysfunctional and corrupt political system built by President Museveni, who is now manoeuvering to extend his three decades in power by raising a… Read more »
InFocus
The torture of suspects in detention at the infamous Nalufenya Police Station in the aftermath of the assassination of former police spokesperson Andrew Felix Kaweesi and the ... Read more »